Monday, November 10th, 2008
Back-to-Back
Marion Local volleyball wins second straight championship
By Ryan Hines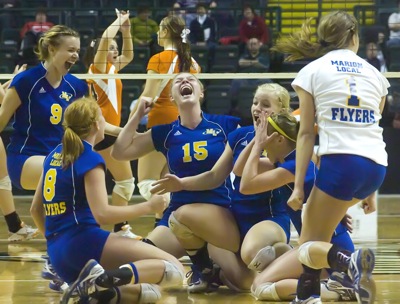 FAIRBORN - The Marion Local volleyball team enjoyed its first state championship last year so much that they decided to go out and do it again this year.
Marion Local was crowned as the Division IV state champion for the second straight season on Saturday following a 23-25, 25-18, 25-22 and 25-14 victory over Jackson Center at the Ervin J. Nutter Center.
"This is the most amazing experience in my whole entire life," said a jubilant Tara Hartings after the match. "We have a wonderful team and it was a great team effort for us today. We put it all together today and it just feels great."
"It was so special to win the state title last year with all of our seniors, but it's the same great feeling this year with a different and younger team," said Marion Local head coach Amy Steininger. "So happy and so proud of our girls. Once you get that first state championship like we did last year, it just makes you want to get back to that point so bad."
The Flyers also avenged one of their regular-season losses to repeat as state champs. Jackson Center (28-2) defeated Marion Local (26-3) in five games during the regular season, but following a game-one loss on Saturday, the Flyers won three straight games behind the play of sophomore sensation Alyssa Winner.
Winner was the most prolific spiker of the entire state tournament and Big Red hammered home a match-high 29 kills and had a team-high 19 digs for the Flyers in the championship match.
"She's just a sophomore, but she is definitely one of the best players in the entire state and in any division," lauded Steininger. "She can do it all. She's just as good in the back row playing defense as she is in the front row hitting the ball. She picked up her game tonight and her game is just huge for us. A joy to coach."
"It feels great to get the win. I knew that I would have to play a good match today for us to get the win. I just kept swinging away with no regrets," said Winner, who had 28 kills during the semifinal match. "We have so many new faces and to win it this year feels great like last year. New faces but the same result."
Jackson Center had its own big spikers with Allissa Ware and Casey Gates and the Tigers' duo carried them to victory in game one.
Gates and Ware combined for 11 kills and Marion Local aided Jackson Center with nine errors as the Tigers won the opening game, 25-23.
"I think that we played much better at the end of game one and I could kind of feel the momentum shift our way going into game two," said Steininger. "I just told the girls to believe in the scouting report and play our game and we would be fine. The girls really responded in the second game after the disappointment of game one."
Game two was tied six times before Marion Local's Shelby Moeller took over serving and paced the Flyers on a six-point run for a 12-6 lead. Kaylee Schaefer, Margaret Wuebker and Leah Rosenbeck each had a kill to help ignite the spurt.
Jackson Center pulled it to within three points at 19-16, but Marion Local had a game-clinching five-point run for a 24-16 advantage. Rosenbeck had an ace and two Winner kills sparked the Flyers' run.
The Tigers won a pair of points to delay game point for the Flyers, but a great dig by Jessica Schwieterman helped set up a monster kill by Winner for the 25-18 victory in game two.
It was tight throughout game three and there were six ties on the way to a 20-20 deadlock, when the Flyers went on a mini streak. Winner had a kill, Ashley Lochtefeld had a stuff block and a pair of Jackson Center hitting errors gave Marion Local game point at 24-20.
A Ware kill and ace only delayed the inevitable as Winner got a perfect set by Tara Hartings and let loose for her 11th kill of the game for the 25-22 victory.
Game four was tied nine times in the early going before a Ware ace and a Gates kill helped Jackson Center to a 12-10 lead.
The Jackson Center lead didn't last long as Marion Local won the next nine points and the Flyers opened up a 19-12 advantage. Winner had four kills and Casey Heitkamp contributed a block during the match-defining run.
"That was a huge run for us with Tara Hartings serving in the fourth game," said Steininger. "We got some momentum and the girls were just feeling it. Our defense was amazing during that stretch and we got great plays from Jessica Schwieterman, Alyssa Winner and Alyse Bergman to keep the rally going. Our key tonight was defense, especially during that run in the fourth game."
A Flyers net violation handed Jackson Center a point, but Heitkamp and Lochtefeld gave Marion Local match point on a combo block before a Tigers hitting error sealed the state title for the Blue and Gold.
"Marion Local just came right after us," said Jackson Center head coach Kim Metz. "Alyssa Winner was just nailing the ball and we made too many errors. We made key errors when we couldn't afford to make any errors. You have to have your A-game when you play Marion Local and we didn't have our A-game today."
"We never really talked about winning state as a team during this run of ours," said Marion Local senior Jessica Schwieterman. "We just took it one game at a time the whole way and now it feels good to be able to talk about winning state."