Wednesday, November 12th, 2008
Taking it to the limit
By Betty Lawrence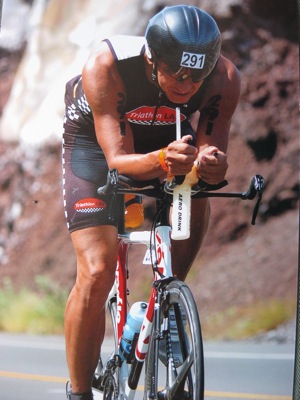 Lou Briones, a native of Celina and current resident of Los Angeles, Calif., competed in the Super Bowl of all triathlons, the Ford Ironman World Championship in Kona, Hawaii in October.
Briones, a young 61, qualified for a spot in the world championship triathlon after he placed first in his age group in June at an Ironman triathlon in Coeur d'alene, Idaho.
At Kona, he was one of 1,800 competitors who braved the strong ocean waves, stiff wind and the rough terrain to compete in the coveted race, placing 14th out of 40 in his age group (60-64).
"My time was a little slower than in Idaho (where he set a course record for his age group), but the conditions were more severe in Hawaii and I think I was tired from a long season of racing," Briones recalled in a recent interview. "But just getting there is a huge accomplishment. I did my best."
He competed the Kona triathlon in 12 hours, 51 minutes and 45 seconds, nearly one hour longer than the Idaho race.
Triathlon competitors must compete non-stop in three sports, namely: 2.4 miles of swimming, 112 miles of biking, followed by a 26.2 mile marathon run.
"The swim was in the Pacific and it was beautiful, but crowded, intense and very competitive. It's not my best discipline, but just getting there, being able to compete in it is a big accomplishment. I did my best," Briones said.
After the cool dip in the Pacific, competitors don their biking attire, grab their racing bike and head out for 112 miles of competitive biking. All competitors must bring their own racing equipment.
Briones rides a Cervelo P2C, a Canadian carbon fiber triathlon bike.
"We had steady, gusty side winds the whole ride and it was a big factor," Briones said.
To keep his energy level up, Briones eats power bars and drinks while on the go to keep hydrated. There's no stopping.
For the 26.2 mile marathon, Briones changes into his running shoes in a "changing tent" set up along the course.
The key to running, he says, is to choose a pace that you have trained for.
"It was hot and I think the humidity was up around 100 percent," he added.
There were approximately 100 athletes who did not complete the grueling race, Briones said.
He plans to continue his triathlon competition in the future and now that he knows what to expect at the Hawaii triathlon, he says he can train specifically for the race.
Briones is a retired employee of Boeing Satellite Systems and served with the United States Marine Corps in Vietnam. He still has several relatives who live in Mercer County and tries to return to Celina annually.
Note: A bit of history: A group of friends combined their loves of swimming, bicycling and running to sponsor the first triathlon in 1974 in southern California. Today, thousands of triathlons are held every year throughout the world with the Hawaii event being the World Series of triathlons.