Thursday, November 13th, 2008
Twenty-four years in prison for quadruple fatality
Schwieterman given less than maximum sentence
By Shelley Grieshop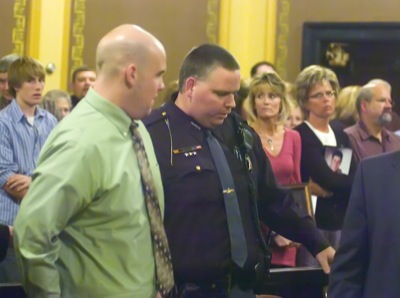 Nick Schwieterman of Chickasaw will spend the next 24 years behind bars for causing a traffic accident that killed four Maria Stein area teenagers.
He had faced a maximum of 41 years in prison. There is no chance for parole.
Inside a crowded Mercer County courtroom on Wednesday, the 23-year-old man sobbed openly upon learning his fate for driving under the influence of alcohol and drugs, running a stop sign and crashing into another vehicle in the early morning hours of March 15.
Pronounced dead at an intersection near St. Sebastian were all four occupants of the car Schwieterman hit: Jordan Diller, Brad Roeckner and Jordan Goettemoeller, all 19, and Jordan Moeller, 18.
Midway through Wednesday's 31/2-hour hearing, Schwieterman took the opportunity to speak on his own behalf.
He turned toward the victims' families, his eyes filled with tears and his voice cracking: "I made the worst decision of my life ... I am sorry that my actions took them away from you."
Schwieterman, dressed in a button-down shirt and tie, said he felt the consequences of his actions after the crash occurred. He concluded his statement by asking for forgiveness.
"I hope someday you can find peace and strength to forgive me for what I've done," he said.
Some of the parents and siblings of the victims wept as Schwieterman spoke, tightly clutching photos of the young men they lost eight months ago. They, too, were granted time to speak in court and let Schwieterman know how his actions devastated their lives.
"What Nick put us through that day has been a nightmare," said Jordan Goettemoeller's mother, Lisa.
As she fought back tears, she told the court that words cannot describe the sorrow her family endured after the crash. She recalled holding her son's hand and talking to him for hours as his body lay cold, bloody and lifeless on a hospital gurney.
Judge Jeffrey Ingraham commented during the sentencing: "Every person is responsible for his or her own choices and accountable for the consequences those choices bring about, and we as a community of Mercer County cannot deny that we each bear some responsibility for our young people."
A crowd of approximately 70 people filled the third-floor courtroom; an overflow of 83 people watched the event on a closed-circuit television in the auditorium downstairs.
The hearing also included testimony by three witnesses on Schwieterman's behalf and final statements by his attorney and the prosecution.
The subject of drinking and driving, as well as drug abuse, was frequented throughout the hearing. Schwieterman's attorney, Scott Calaway, noted how routinely local youths - many under 21 - drive drunk and drugged. He suggested the problem needs addressed.
"I marvel at how common and accepted it is here," Calaway of Dayton said.
Although Assistant Prosecutor Matt Fox didn't argue an alcohol/drug problem exists, he said Schwie-terman's choice to get "high, drunk and stoned" the night of the crash was not typical of Maria Stein-area teens. Fox said Schwieterman admitted to drinking five beers and six mixed drinks and snorting two lines of cocaine the night of the crash.
One of the witnesses speaking on Schwieterman's behalf was Roberta Donovan, a local counselor who first spoke to him as he arrived at the jail March 15 and continued to counsel him as the case was pending. She recalled him uttering words like "get rid of me, I will pay you" and "just shoot me," after he learned he had killed four people - all Marion Local graduates like himself.
Donovan said she felt he was genuinely remorseful and immediately wanted to apologize to his victims, although his attorney advised him not to.
Later, an audio tape of Schwieterman's mournful reaction to the four deaths was played aloud in court. The tape was recorded while Schwieterman was transported in a deputy's cruiser to the jail.
Schwieterman, who pleaded no contest to the charges in October, admitted to Donovan that he began drinking alcohol at age 15, snorting cocaine during his senior year in high school and smoking marijuana at age 20.
Also testifying on Schwieterman's behalf was his father, Robert "Buster" Schwieterman. Buster Schwieterman admitted his son was ornery but also was a good student, making the honor roll nearly every year in high school. When asked if Nick partied, he quickly replied: "Yes, he did."
Buster Schwieterman said he knew his son drank alcohol underage but he wasn't aware his son was doing drugs. He said he had not seen any "signs" to indicate there was a problem. He recalled the first time he saw his son after the accident. The young man was sitting in a dark cell at the Mercer County Jail where he had been placed on suicide watch. He was stripped naked, except for a vest, Buster Schwieterman said.
"He wanted to die," he said.
Calaway, during his final statement in court, noted that many people were compassionate toward his client until it was revealed in the media that he was under the influence of cocaine and marijuana - not just alcohol - the night of the accident.
"Nick was now a leper," he said.
Calaway tried to squelch the idea that Schwieterman and his passenger, Kyle Schmitmeyer, didn't try to help the victims following the crash. Calaway said Schwieterman thought he had hit an electric pole and didn't realize there was another vehicle involved until the sheriff's cars and ambulances illuminated the crash scene with their flashing lights.
Calaway concluded his statement by asking the judge to sentence his client to eight to 12 years in prison. He said Schwieterman's presence in the community would be a reminder to other young boys of the consequences of alcohol and drug use.
"Put him away for 40 years and he'll be forgotten in two weeks," he explained.
Judge Jeffrey Ingraham sentenced Schwieterman to six years in prison on each of four counts of involuntary manslaughter, with each term to run consecutively for a total of 24 years. He also ordered him to serve one year in prison for a drug possession charge and six months in jail for operating a vehicle under the influence, with those terms concurrent to the involuntary manslaughter sentence.
Schwieterman also was ordered to pay a $1,000 fine and issued a 31/2-year operator's license suspension - the maximum allowed by law for the crimes.
Fox, who sought the maximum prison sentence, said he hopes "this 24-year sentence from the court serves as a wake-up call to those who continue to put others in jeopardy by driving impaired."
Fox said the prosecution now will focus on their case against Staush Homan, 22, of St. Henry, who faces 10 felony charges including four counts of involuntary manslaughter, which allege he sold the cocaine to Schwieterman prior to the fatal crash. He also faces four counts of reckless homicide and two counts of cocaine trafficking.