Saturday, November 15th, 2008
Alter scores 24 unanswered to bounce Coldwater
By Gary R. Rasberry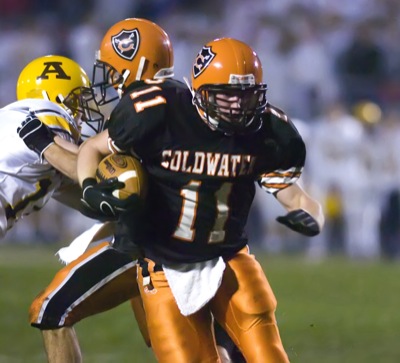 TROY - Friday's anticipated Division IV regional final between Coldwater and Kettering Archbishop Alter, a rematch from last year's regional semifinal, was billed as the irresistible force meeting the immovable object.
In the end, Alter was able to do something that other teams have been unable to do this season: shut down the Cavaliers.
The Knights advance to the state semifinal next week, exacting some revenge after last year's loss to Coldwater, with a 31-21 win over the Cavaliers at Troy Memorial Stadium.
Alter (11-2) will wait until Sunday to know its opponent as the OHSAA will make the official semifinal matchup. Coldwater, the defending state champs, sees a 25-game winning streak snapped in ending its season at 12-1.
"We wanted it so bad," said Alter quarterback Austin Boucher, who was the starter last year in Coldwater's 59-52 triple-overtime win at Piqua. "The hunger, the heart we had. There was nothing that was going to stop us. That's an awesome team (referring to Coldwater), but we wanted it so bad."
"They're good athletes," said Coldwater coach John Reed. "Great, great players. They've got an outstanding plan to take advantage of the athletic ability they have. They really do a great job with their kids."
The matchup was a 180-degree turn from last season, when Coldwater trailed Alter by 21 points twice to come back to win in triple overtime.
The Cavaliers had all the momentum in the first half, leading 21-7 at one point before the Knights scored 24 unanswered points over the last 24 minutes and three seconds to come back for the win.
The Cavalier defense used a "bend, not break" format early on with Alter as Boucher and running back Chris Borland were able to get big yards, but could only hit the end zone once in the first half.
Coldwater took the first lead as Cory Klenke returned a Boucher interception back to the Alter three, where Tony Harlamert punched in the final two yards to make it 7-0 after the Mario de la Rosa PAT.
After Alter came back with a 70-yard drive with Boucher punching in the last seven yards, Coldwater jumped back up early in the second quarter as a bad punt snap resulted in Alter losing five yards on the kick, allowing Coldwater to set up shop at the 50. Klenke picked apart the Alter defense with short passes moving Coldwater inside the Knight 20, where Klenke found Zach Kaup for a 17-yard score with 10:42 left in the half.
The teams traded punts, but on Coldwater's punt, Alter's Danny Jasper lost the handle on the ball at the Alter 10. Trent Muhlenkamp scooped the ball up and ran it for a score in to make it 21-7. Alter got a 26-yard Jasper field goal with three seconds left to make it 21-10.
Boucher said that his squad was not worried, remembering Coldwater's 21-point comeback to tie last year's game in regulation.
"Coldwater was down more than us twice, so we were like 'We're just as good a team,' " said Boucher. "When that happened, we just rallied as a team."
After a trading of punts to start the second half, Alter ate up nearly five minutes with an 11-play drive spanning 59 yards. Borland and Boucher rolled the offense, with Boucher scoring from a yard out with 1:48 left in the third. The PAT was missed, putting Alter just five points back.
The Knights defense stymied Coldwater, not allowing the Cavaliers to gain a first down in the third quarter and holding them to just seven offensive plays in the quarter. Klenke made his only error of the game, firing an interception to Matt Pirrello, who took the ball back 46 yards to make it first-and-goal from the Cavalier 7. Two plays later, Boucher scored from seven yards out to make it 22-21. On the two-point try, Boucher pitched it to Cody Taublee, who ran it in to make it a field goal lead.
"That's a credit to Alter," said Reed. "They maintained the ball and (Boucher) made play after play. Both (Borland and Taulbee) continued to not be willing to go down. They deserved what they were able to accomplish tonight."
Coldwater moved the ball well on the ensuing drive, with Klenke completing three of his first six passes as the Cavaliers got as close as the Alter 24 before a holding call stalled the Cavaliers at the 34, forcing a punt.
Alter put the nail in the coffin with a 15-play drive spanning 85 yards and, more importantly, taking 7 1/2 minutes off the clock. When Borland punched it in from a yard out, there were just 61 seconds left and Alter led 31-21.
"We just couldn't stop them," said Reed. "We'd given a great effort. We just couldn't stop them."
Coldwater made one last-ditch drive to try and get back into the game. Klenke passed the ball to get his squad as close as the Alter 7, but his final pass to Adam Rammel was a couple yards short of the end zone as time expired.
Boucher - who had some radio announcers confused by wearing his twin brother Colin's number 9 jersey rather than his own number 8 in tribute to his brother, who missed most of the season with a knee injury - was solid all over, completing 12-of-19 passes for 124 yards while rushing for 89 yards and two scores. Broland carried 17 times for a game-high 107 yards and the other two Alter touchdowns.
"(Boucher) will be the first to tell you, it wasn't just him, it was that line," said Alter coach Ed Domsitz. "Coldwater's got some people. It was a team effort. I told the kids it was remarkable football, you've got to do that to beat a team like Coldwater."
Klenke completes a stellar career at Coldwater with a 20-for-36 passing performance for 178 yards. Harlamert, the Cavaliers' all-time leading scorer, was held to six yards rushing and just 15 yards receiving on three receptions. Kaup finished with four snags for 57 yards.
"I said all year, the state championship went through Coldwater," said Domsitz. "They were the state champions and they were on their way for another one. Fortunately, we were able to play some great ball tonight."