Monday, November 24th, 2008
Eagles soar over Flyers to state title game
By Randy Bruns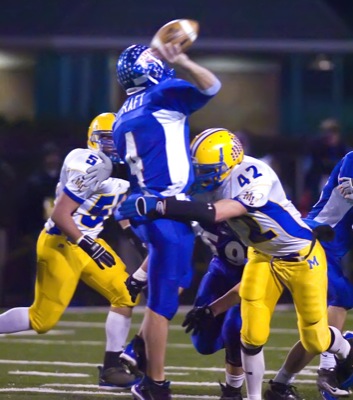 FINDLAY - Marion Local's magical run of postseason success came to a grinding halt Saturday night at Donnell Stadium courtesy of a buzzsaw otherwise known as the Liberty-Benton Eagles.
The Eagles got a scintillating performance on offense by junior quarterback Aaron Craft but their defense was just as good in whitewashing the Flyers by a final score of 35-0 in the Division V state semifinals.
Liberty-Benton, now 14-0 on the year, will face Youngstown Ursuline on Saturday at Paul Brown Tiger Stadium in Massillon for the state championship. Marion, which had won its previous 13 playoff games, including two state championship contests, sees its season end at 11-3.
The Flyers knew coming into the game that the Eagles were the real deal, having outgunned their opponents by an average score of 46-3 through their first 13 games. However, knowing something and doing something about it are two different things, as the Flyers quickly found out.
Led by the rifle-armed and swivel-hipped Craft, the Eagles marched right down the field on the game's opening drive. Craft started with a pair of completions totaling 19 yards but used his legs the rest of the way. A 23-yard scamper brought the ball deep into Flyer territory, and one play later Craft was off again, this time for a 25-yard bolt to the end zone that gave the Eagles a 7-0 lead just two minutes into the game.
After Marion was forced to punt, the Craft show went back into action. The junior signal caller broke loose for a 44-yard run on the first play of the drive and later hit Brennan Lieb on a 20-yard gain down to the Marion five-yard line. The Marion defense later sacked Craft on third down, but Justin Hyde booted a 29-yard field goal to give his team a 10-0 lead.
Meanwhile, the Flyers simply could not sustain anything on offense, as their first five drives all started with a first down but only once were they able to move the sticks another time.
The Eagles were having no such problems, as Craft's ability to run and pass kept the Flyers on their heels. Early in the second quarter a 28-yard strike to Brandon Pickett and a 13-yard scoot by Craft moved the ball into Flyer territory and though the drive bogged down, Hyde came on to boot an impressive 42-yard field goal that provided the halftime score of 13-0.
Though things didn't go their way in the first half, the Flyers were only down two scores and had hopes of getting back into the game when they received the opening kickoff of the second half. Like they did in the first half, the Flyers started with a first down but that was all they would get as the Eagles forced another punt.
Craft put on a one-man show on the ensuing drive, as he passed for 52 yards and ran for 32 more, with the final run a five-yarder that made the score 20-0. An interception then set up the Eagles in prime field position, and - who else? - Craft quickly cashed in with an 11-yard touchdown run that put the dagger into the Flyers' comeback hopes.
"They're a great team," commented Marion coach Tim Goodwin on the Eagles. "They kept the pressure on us and we didn't respond like maybe we could have. For whatever reason, we couldn't string together some plays. We couldn't get any rhythm going and a lot of that was (because of) them, and some of it was us. When that happens you have to congratulate the other team and we wish them the best of luck."
Craft's fingerprints were all over this one, as the junior's rushing total of 166 yards more than tripled that of the entire Marion team (51 yards). As for passing, even though Craft completed less than half of his attempts (9-of-19), the ones that were on the mark gained an average of 15 yards each.
Goodwin went back a few years to find a player with tolls comparable to Craft's.
"I compared him this week to Kevin Hoyng as a senior - this kid's good," complimented Goodwin, a reference to the former Coldwater and University of Dayton quarterback. "He just puts so much pressure on your defense, and we couldn't handle it tonight, there's no doubt about that. When you go against a kid like that it's hard to attack because he makes a lot of guys miss."
Liberty-Benton coach Tim Nichols knew his team would have to slay the defending Division V giant Flyers to prove their worth.
"Our kids respected (Marion's tradition) but it also motivated us," said Nichols. "You have to beat the best to be the best but now there's somebody else waiting for us in Massillon. We didn't imagine (winning by) a score like this but we'll take it."
Though the loss ended the season for the Flyers on a sour note, Goodwin pointed out that this year's team exceeded the expectations of many.
"We're proud of our kids," said Goodwin. "We lost a lot from last year but this senior class was a great group to work with, and that was a privilege for us. I know their parents and the whole community is very proud of them."