Wednesday, November 26th, 2008
Blessed by family - old and new
A 16-year-old Mercer County native and an Ohio family have much to be thankful for during this special week
By Shelley Grieshop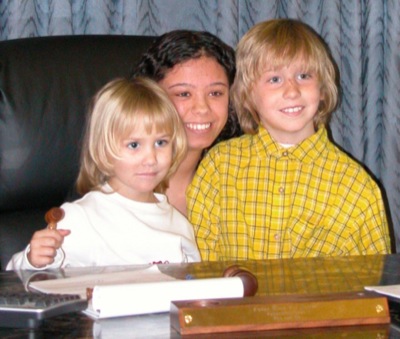 It was one of those warm and fuzzy moments that couldn't have happened at a more appropriate time - Thanksgiving week.
Jazmine, a bubbly 16-year-old girl, officially became the adopted daughter of Loretta and Phil Germann of Ohio City.
"If this is granted ... Jazmine will be your child ... as if she was born to you," Mercer County Juvenile Court Judge Mary Pat Zitter told the Germanns during a court hearing Monday.
Next, the judge looked toward the smiling teenager, whose big brown eyes sparkled with excitement.
"Is it your desire to be adopted?" Zitter asked Jazmine.
"Yes, ma'am," she quickly replied.
Jazmine's new younger brother, Robert, 8, and sister, Elizabeth, 4, eagerly helped the judge swing the court gavel after Zitter pronounced the teen an "adopted person."
The Germanns - foster parents who cared for Jazmine the last three years - said they were delighted the day had finally arrived.
"I'm excited, a little scared," laughed Loretta Germann, reminding herself she was now the mother of a teenager. "It's kind of like having a baby even though she's been with our family for a while."
Phil Germann smiled and gave a brief sigh. "It's official," he added.
The couple have cared for about 80 foster children over the years, most on a short-term basis. Six others lived with the family for a more extended period, but Jazmine is the only child the Germanns sought to adopt.
Jazmine, who is part Filipino, was just 2 years old when her mother dropped her off at her grandparents and left. Her father has been "out of the picture since I was born," she said matter-of-factly.
She was raised by her grandparents until her grandmother passed away and her grandfather decided to terminate his rights three years ago. The county Job and Family Services Department - through caseworker Heidi Duhamel - placed the young lady with the Germanns.
Jazmine still sees her grandfather, who lives in Mercer County, and she remains close to her 13-year-old sister who is in foster care.
Although life has thrown her a few curves, she doesn't grasp for pity. Instead, Jazmine cherishes her blessings.
"I'm really flexible," she said with a giggle. "I go with the flow."
She loves, music, reading and puzzles and talks often about a missionary trip she took to Honduras in July with members of her church. After seeing smiles on the faces of children who had virtually nothing, she said feeling sorry for herself wasn't an option.
"Those little kids were so happy with the little they had," Jazmine said. "I just couldn't believe it."
She has big plans for her future. She wants to be a doctor but hasn't forgotten her grandmother's wish for her to become a teacher.
"I figure I can become a doctor and be a part-time substitute teacher, too," she added.
Her adopted parents are kind and show her lots of love, she said, adding "I couldn't be happier."
Loretta Germann said Jazmine's trip overseas this summer made them realize how much they loved her.
"We felt so empty without her," she explained.
In their hearts, Jazmine has been their daughter for some time now, Loretta Germann said. Making it official is like icing on the cake, she said.
"She has grown into our family. It was time," she added.