Saturday, November 29th, 2008
New ER at Community Hospital should be operational by spring
By Shelley Grieshop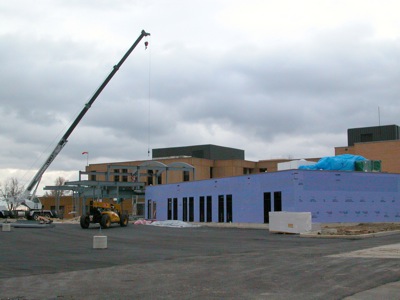 Construction of the new emergency room at Mercer County Community Hospital in Coldwater is expected to be completed by April, officials say.
The overall $5 million project - which also includes the creation of an outpatient services center - likely will be done by late summer or early fall, depending on a variety of factors. Work was delayed in October for about six weeks after steel shipments failed to arrive.
Hospital CEO Jim Wermert said he is currently awaiting state approval on construction plans for the imaging department where a new, million dollar MRI machine will be housed. He hopes contractors can begin working in that area next week, with nine to 10 weeks of construction needed for completion, he said.
The MRI could be ready for patients by early March, Wermert said.
The hospital construction project involves the northeast corner of the hospital along Cedar Street. More than 14,000 square feet is being added for the new ER department and a portion of the new outpatient services center. Also, officials are renovating about 9,500 square feet of existing space to establish the outpatient services center and a women's health center.
The new addition will be home to private treatment rooms and a separate entrance for ambulances. Three large trauma rooms also are being built near the imaging department.
The new emergency room will include nine private rooms, seven examination rooms and a consultation room for physicians and families.
"The project is proceeding fairly well," Wermert said.
He said he hopes the recent loss of construction time can be made up in the coming months.
The hospital, which was originally built in 1950, is located at the corner of West Main and Cedar streets.