Thursday, November 6th, 2008
Parkway's recycling effort picking up
By Janie Southard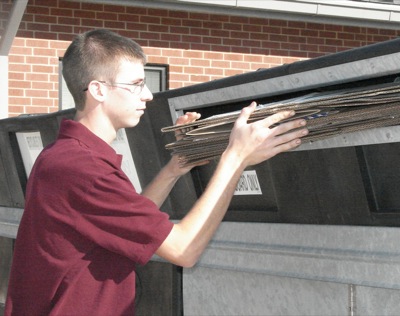 ROCKFORD - The Parkway FFA recycling program has grown big time over the past 18 months, saving money for the school and providing a new community service.
Alan Post, vocational agricultural instructor/FFA adviser at Parkway High School, said the program has grown into "the good monster." That monster has saved the school district more than $3,000 plus made possible a $1,500 profit that the students donated to the Children's Miracle Network at Dayton Children's Hospital.
FFA students began collecting paper and cardboard from the school about a year and a half ago and drove those recyclables to Ohio Recycling in Chickasaw using the band van and Post's pickup truck. The popularity and growth of the new project prompted Post to write a grant for blue collection tubs to place around the school.
"We got 95 tubs that we filled every week (at the school). We were still using the band van and my truck to get to Chickasaw. I'd say we made three trips each Saturday," Post said. "Then we got a grant through Mercer County Solid Waste to buy our recycle trailer. You can't imagine how that has helped us out."
By the next school year, community members also were encouraged to bring their recyclables to the school for collection every third Saturday of the month. This service has ballooned during the past year. Post said there are about 100 people who show up every month.
"Some of them are the same ones every time, our regulars. They have their stuff all sorted and ready. And almost everyone we've met has a good word for us," he said, pointing out the students also now recycle tin and aluminum cans, metal and glass.
All students in the program are volunteers, which also includes some work-study kids who take on the regular duties of collecting paper from classrooms. Plus it's not unusual for any student to just stop by on a Saturday morning to see if help is needed.
"Different students are in charge of different aspects of the program," Post said. For example, one student knows that every day at third period he'll collect cardboard boxes from the cafeteria and make sure they're flattened. Then he'll load them into the recycling trailer, which is always parked at the back of the school.
Parkway senior and student recycling volunteer Brandon Riley said no one thought there would be a lot of interest in the community.
"We were really surprised," he said.
Another grant made it possible to get 12 larger bins with lids so they can be stacked, which has helped with their efforts to store recyclables during the week.
Post is hopeful a new, larger trailer is in the future as the program continues to grow.
"The kids do a real good job with this and it's a good way to get them involved in community service," Post said.