Tuesday, December 9th, 2008
Christmas past to present
Local woman makes Victorian-era decoration using fresh cut evergreens and bows updated with lights
By Shelley Grieshop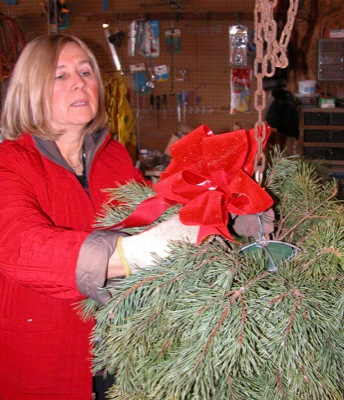 ST. MARYS - The fragrance of fresh-cut evergreens fills the small shop where Linda Burkholder works this brisk December afternoon.
Her hands are steady as one by one she pushes the tips of the Scotch pine evergreen branches into the moist and spongy Styrofoam brick at the center of her creation: an old-fashioned kissing ball.
"It's really not that difficult, you just have to make sure the tips are in there solid," she says, as a shop light behind her casts a soft glow on her project.
Kissing balls or kissing bells, as they sometimes are called, were favorite holiday decorations in Victorian times when freshly-harvested evergreen boughs, sprigs and vines were transformed into wreaths, garlands and swags and hung from doorways, mantels, banisters and chandeliers. They were sometimes made from the mistletoe plant.
Traditionally, kissing balls were created with apples or potatoes at their center to provide long-term moisture for the inserted greenery or herbs. Burkholder uses a more contemporary method - Styrofoam sponges, which stay moist for months if the kissing ball is kept outside, she says.
Hand over hand she quickly weaves together the sweet-smelling branches that minutes earlier were cut from a now balding tree on the floor. Working from bottom to top, she inserts the tips of the branches into the sponge, which is covered with a sturdy metal wire, similar to chicken wire.
Burkholder takes advantage of the natural, upward angle of the tree's branches to give the kissing ball its traditional round shape.
Before completing her project, she adds a few thin sprigs of boxwood greenery and a bright, red bow and ribbon. Lastly, she graces the decoration with a strand of small, white lights.
"Believe it or not, these (kissing balls) often stay fresh until about March," she says.
Some people have been known to change the ribbon and lights to flares of green for appropriate St. Patrick's Day decorations, she adds.
Burkholder has been making kissing balls for seven years and sells about 50 of them each Christmas season at her Ever Green & Ivy shop on Lambert Road. She and her husband also own a tree farm on the sprawling property. It's quite handy, she says with a grin.
"Not much goes to waste," she says, explaining the evergreens she uses are deemed unsuitable to sell as Christmas trees.
She also makes wreaths and other fresh evergreen arrangements, such as "mailbox grabbers" that drape across mailboxes.
One of her best tips is to cut the tree branches just prior to using them in arrangements.
"If you don't, they won't absorb water," she explains.
Burkholder makes three different sizes of kissing balls, each taking about an hour and a half to complete. As she trims new branches for her next project, one of the farm cats sneaks out from behind a door and settles into a corner to keep her company.
"I enjoy doing this," she says. "It kind of puts me in the mood for Christmas each year."