Monday, December 1st, 2008
Celina captures OVISCO crown
By Ryan Hines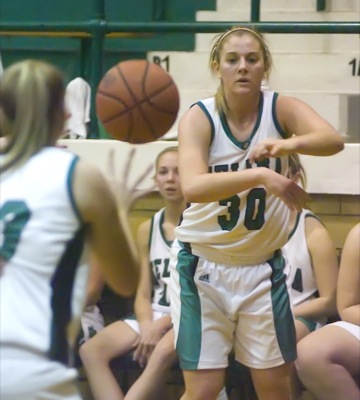 The Versailles girls basketball team was going for a third straight OVISCO Classic championship on Saturday night, but Celina had other plans.
Celina's defense paved the way for a 44-41 victory as the Bulldogs captured the OVISCO Classic championship for the first time in recent memory and ended Versailles' 29-game winning streak in the process.
"Versailles is a great program and they have a really good team this year that was on a 20-something winning streak," said Celina head coach Brian Stetler. "I'm happy for our girls to get this win tonight and to win our own tournament for the first time in a long time. They deserved to win.
"One of our early goals for this year was to win this tournament and to do it against a quality team like Versailles is big," added Stetler.
Celina's pressure man-to-man defense caused Versailles fits all game long. Versailles shot 53 percent from the floor, but the problem for the Tigers was 35 turnovers.
"They put a lot of pressure on us and that's something that some of these girls aren't used to," said Versailles head coach Jacki Stonebraker. "We've got a lot to work on to be where we want to be and this tournament showed that. We just had way too many turnovers to win this game."
Despite Versailles' struggles with the Celina pressure defense, the Tigers still managed to lead for most of the game as the Bulldogs' offense struggled mightily, shooting just 29 percent.
A pair of Karen Smith free throws gave Versailles a 35-30 lead with 5:59 left to play in the fourth quarter, but Celina rallied behind the play of Kelsey Waterman.
Waterman canned a three-pointer and then made a steal on Versailles' next possession and drove the length of the floor for a layup that tied the game at 35-35.
After the two teams traded buckets, Versailles' Emily Frey and Smith canned a pair of free throws each to give the Tigers a 41-37 advantage with 3:44 left to play in the game.
Waterman then split a pair of free throws on two different occasions to pull Celina to within two points and then Cayla Hellwarth weaved her way through the Versailles defense for a layup to tie the game at 41-41 with 1:33 left on the clock.
After a Versailles turnover, Celina got another big play from Hellwarth. The Celina point guard was on the right side of the floor and then drove to the basket and executed a beautiful left-handed hook shot that hit the front of the rim and rolled into the basket for a 43-41 Celina lead with 47 seconds left to play.
"Cayla didn't score at all for us in the semifinals, but she did her job of distributing the ball and playing great defense. We talked about trying to get our guards to drive to the basket and she did that on two big possessions late in the game. She's one of our floor leaders and I'm happy for her because she works hard."
Versailles tried to feed Megan Campbell in the post on the Tigers' next possession, but Shelbi Nation tipped away the entry pass and Waterman retrieved the loose ball and was fouled.
Waterman hit one-of-two at the free-throw line for a three-point Celina lead at 44-41 and Versailles' Laura Schlater missed two potential game-tying three-pointers and Celina celebrated the victory.
There's no Most Valuable Player chosen from the OVISCO Classic, but if they did, Waterman would be the easy choice. After a 10-point and 10-rebound performance in the semifinals against Greenville, Waterman led all scorers in the championship game with 18 points and added seven rebounds to go along with six steals.
Frey led Versailles with 14 points.