Thursday, December 11th, 2008
Area school cooks earn extra credit for healthy meals
By Shelley Grieshop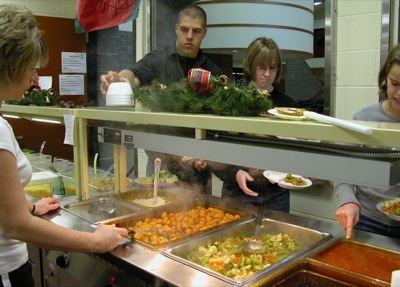 Cafeteria cooks wage a daily battle with finicky eaters and slim school budgets that test their culinary skills and creativity.
Homemade dishes such as oven-baked pasta dishes have almost disappeared from school menus because of high labor costs and their unpopularity with students.
"Kids won't eat casseroles," says Lori McKean, past president of the School Nutrition Association of Ohio and current food service supervisor at Wapakoneta schools. "We know they like pizza and chicken nuggets, but I'm not making that every day."
McKean, who meets regularly with other Grand Lake area school cafeteria supervisors, says made-from-scratch meals require extra time in the kitchen and can weigh heavily on school budgets. Today's school cooks more often use canned or frozen, prepared-ahead foods.
The more labor-intensive meals also are foreign to many students because parents don't make them at home, McKean adds. Children today crave hamburgers, hot dogs and macaroni and cheese or anything that resembles fast food, she says.
McKean has an annual cafeteria budget of $1.2 million that must stretch to pay 41 employees and buy foods that are approved by the state to be low in fat, have no trans fats and fit the bill for nutrition. The state performs menu checks at schools every five years.
McKean, like other area cooks, has discovered ways to substitute kids' favorites with healthy options. For example, she uses slices of white and wheat bread for grilled cheese sandwiches.
She gets fired up when speaking about the pop machines that riddle the school hallways and the cookie and candy sales that take place outside the cafeteria walls. To her, they are temptations the students can live without.
Lynn Rinderle, director of food service at Coldwater schools, says the rise in obese children is alarming and she continues to search out creative ways to provide healthy foods.
"I spoke to the school nurse and she said one in three kids has type 2 diabetes (associated with overweight people)," says Rinderle, whose workers serve about 1,100 meals each day.
Her cafeteria has made several changes over the years to adapt to students' tastes while maintaining healthy menus. Salad, Asian and potato bars are available several times each month and appear to please a vast population, she says.
"This is my favorite," says Coldwater High School senior Brittany Albers, as she prepares to eat this week's Asian cuisine. "I think we should have it more often."
The Asian bar offers oriental veggies, rice, chicken and sauces.
Cafeteria rules specify that only high school students can choose the a la carte line alone, which offers various choices of sandwiches, snacks, fruits and other items. Junior high students can visit the a la carte line after purchasing a plate meal.
The wholesale food industry has begun offering a wider variety of healthy foods for schools to purchase, Rinderle says. She feels good about serving items made with whole grains such as breads, chicken nuggets and rotini and now bakes more often than fries foods.
Getting younger boys and girls to eat vegetables is still a problem, she explains.
"A lot goes down the drain," she says, adding students tend to eat more vegetables as they get older.
Schoolchildren are making better choices than they used to, Rinderle says.
"When I first came here, a typical junior high boy would grab two bags of chips, a Little Debbie (item) and a Hawaiian Punch. That was his whole meal," she says. "What we have to offer now isn't perfect, but it's sure better than it was."