Friday, December 12th, 2008
New Mercer County Jail remains on track
By Shelley Grieshop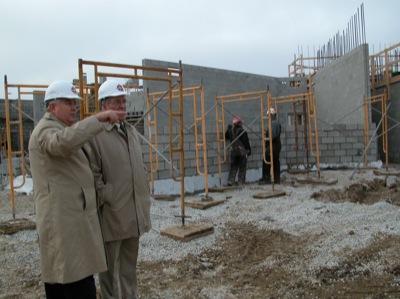 Officials are pleased with the progress made so far on the nearly $12 million jail being built west of Celina.
Contractors, architects and Mercer County commissioners met Thursday at the site along state Route 29 to hear the weekly update for the project, which is slated for completion by the end of October 2009.
"We're real satisfied with everything," Commissioner Jerry Laffin said following a brief tour of the nearly 50,000-square-foot facility.
Change orders - paperwork documenting alterations to the initial project plans - have been minimal and that is excellent for an undertaking of this size, Laffin added.
The bitter cold that hit the Grand Lake area a few weeks ago challenged contracting crews as they dealt with temperature-sensitive portions of the project such as pouring cement, officials said.
"Everything's good, but cold," said Glen Renner of Peterson Construction Co. of Wapakoneta, the general contractor. "We lost a little ground the last couple weeks."
Crew leaders said they are nearly back on schedule and hope to continue the positive pace. One of the big goals in the next week or two is to complete the roof work, windows and doors for the administrative and Central Dispatch area so inside work can commence during the winter months, officials said.
To the front of the building near the highway will be the office of Sheriff Jeff Grey and other administrators, as well as classroom space, according to design plans. The area currently is wide open as dividing walls have yet to be constructed.
The design of the new adult detention facility was awarded early on to Shremshock Architects Inc. of Westerville.
Groundbreaking and initial construction work began the first week of August after voters in November 2007 approved a 0.5 percent sales tax levy for the building's construction and future maintenance costs.
Upon completion, the jail is expected to hold more than 100 inmates, compared to the current one across from the county courthouse that was built in 1939 to house 15 suspected and convicted offenders.