Friday, December 19th, 2008
Celina impressive in 4-0 sweep at St. Marys
By Gary R. Rasberry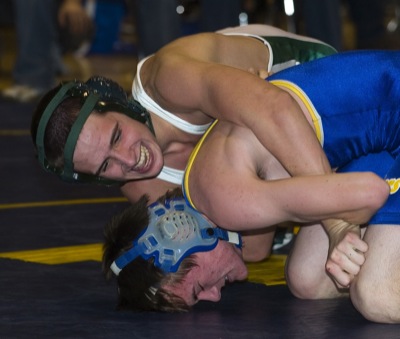 ST. MARYS - Celina rebounded from opening the Western Buckeye League season last week with a loss to Bath by going 4-0 at the WBL duals round-robin at St. Marys' McBroom Gymnasium on Thursday.
The MatDogs were joined by Defiance, Van Wert, Kenton and the host Roughriders.
While Celina thrived on the night, St. Marys came out of the round-robin with just one win, a 41-33 decision over Kenton, which was winless. Defiance went 3-1 while Van Wert went 2-2.
By the luck of the draw, the mat battle of Grand Lake started first as Celina took on St. Marys. The MatDogs recorded seven pins in the match and handed the Roughriders a 54-15 loss. The only Roughrider wins came from Ben Schamp at 215 pounds, Marcus Neal at 285 and Paul Lauth at 171. Pinfall wins for Celina came from Adam Cron, R.J. Baskett, Cody Doner, Curtis Doner, Alex Dues, Derek Minch and Alex Minch.
The big win over St. Marys helped to build up steam for the MatDogs. After taking a bye in the second round, Celina came back in round three to face always-tough Defiance. Celina got the right breaks in the matchup department and came away with a 45-20 win to hand Defiance its only loss.
"Coming in, we thought Defiance was going to be better than they were," said Celina coach Tim Doner. "This year, it's all matchups. Seems like there's no team that's loaded from top to bottom. It's just how you matchup with other teams."
From there, Celina had another close battle before dispatching Van Wert 41-27 and then completed the sweep of the night with a 63-18 win over Kenton.
Coach Doner was very happy with his team's effort on the night against WBL rivals.
"Real good team effort," said Doner. "Nobody really gave up (anything). Good wins for them. Hopefully, we can build on it."
As for the Roughriders, they had to face Defiance right after Celina, falling 55-22. St. Marys got its lone win of the night in round three with a 41-33 triumph over Kenton. After a fourth-round bye, Van Wert broke the tie it held with the Roughriders in posting a 53-21 win.
St. Marys coach Larry Gruber, who ran the round-robin and was all over the gym gathering info during the five-team event, didn't have much to say when it was all said and done.
"It makes for a real long one," said Gruber of the night. "Especially when they have school the next day. I'll have to go back and watch some film because I missed a lot of matches out here, not being able to see a lot of matches. Just watching kids out here, I think we can wrestle better than some did tonight."
Both Celina and St. Marys will enjoy a nice Christmas break before returning to action. Celina does not go back into competition until Dec. 30 when it heads to the Toledo St. John's Invitational. St. Marys is back in action on Dec. 29, making the trip to Marion Harding for the Harding Invitational.