Monday, December 29th, 2008
Four injured in weekend crash in Celina
By Margie Wuebker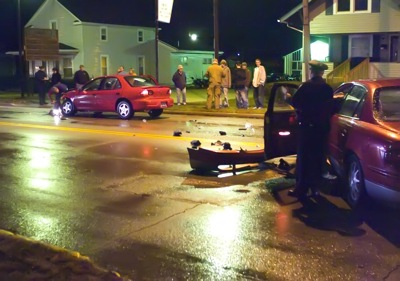 Four teenagers were injured when two cars collided on West Logan Street at Zillah Street. The mishap occurred at 9:41 p.m. Dec. 27, according to Celina Police Department reports.
Andrew V. Moorman, 18, 214 Eastview Drive, Coldwater, was driving a 1997 Buick westbound when he attempted to turn left into an alley beside the Celina Wine Store, 716 W. Logan St. Moorman apparently failed to see the eastbound 2002 Chevy Cavalier of Ashley N. Moorman, 17, 201 E. Wiggs St., Fort Recovery, and turned into its path.
Three passengers in the Fort Recovery woman's car were taken by ambulance to Mercer County Community Hospital in Coldwater. They were James A. Morris, 17, 323 Morton St., Celina; Alicia Slusser, 15, 6588 Brookside St., Celina; and Brianna M. Weiler, 16, 207 Hillcrest Drive, Coldwater. Ashley Moorman also complained of injuries and later went by private vehicle to Community Hospital, where she was treated in the emergency room then later released. No additional information regarding her passengers was available due to federal patient privacy regulations.
Police cited Andrew Moorman for failure to yield when turning left. Both heavily damaged vehicles were towed from the scene.