Friday, January 2nd, 2009
Slight area decrease in traffic fatalities
By Shelley Grieshop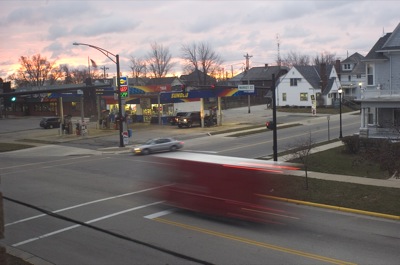 The number of people killed in traffic crashes across the Grand Lake area dropped by just one from 2007 to 2008.
Last year, 14 people - including four Maria Stein-area men who perished in one accident in March - were killed in 11 crashes on roadways in Mercer and Auglaize counties. In 2007, 15 people died in 12 accidents.
The slight drop doesn't please area law enforcement who vow to continue their aggressive battle to reduce the somber statistics.
"Zero is the magic number," said Sgt. Rick Albers of the Wapakoneta post of the Ohio State Highway Patrol. "There's always room for improvement."
Across the state, the number of traffic fatalities dropped a bit more significantly the last two years from 1,255 to 1,102, according to unofficial numbers from the Ohio Department of Public Safety. About two-thirds of those accidents took place on rural roadways.
Locally, 2008 traffic victims ranged in age from 10 to 69 years old. Two of the traffic accidents in the Grand Lake area involved alcohol and/or drugged drivers and both of those took place in Mercer County.
"Historically in this area alcohol is a problem but it seems like that's getting better," said Albers, a Minster native, who added it's not uncommon for drunk drivers to also be under the influence of illegal drugs.
Mercer County Sheriff Jeff Grey said his department has been "pretty harsh" on drunk driving since he became sheriff and he feels it's paying off.
"I believe we're seeing young people exercising more caution by using designated drivers. A lot of people are now using party buses," he said, applauding the idea.
The last three fatal crashes in Mercer County in 2008 involved an all-terrain vehicle, a go-cart and a pedestrian and all took place along state Route 219, west of Coldwater. The state patrol, the Mercer County Sheriff's Office and Coldwater police jointly targeted the area starting in August to address any related problems, even though the cause of each accident was found to be unique.
"What we did was increase the patrol (on 219) in the afternoons," said Sheriff Jeff Grey, adding most of the fatal crashes in 2008 took place during the day.
Statistics from traffic deaths last year will be used to help law enforcement reduce and prevent future tragedies. Details like location, the time each accident occurred and the cause are tracked and often help pinpoint problem areas, Albers said.
The busiest highways remain the biggest targets in Auglaize County, he added.
"Usually (U.S.) 33 and (Interstate) 75 give us the most headaches," he said. "We try to work that area pretty hard. It's mostly the truck traffic."
Overall, officers say there's usually not one specific intersection or township that is found to be an ongoing problem. That fact makes it difficult to assign traffic enforcement, Albers added.
Grey said he will continue to keep cruisers visible in order to remind drivers to slow down.
"People see us and they tend to pay a little more attention," he said.
One of his main concerns right now is how the gloomy economy will affect local appropriations and subsequently the budget of his department.
"If we're forced to put less cruisers on the road, we'll have to find some other way to combat the problem," he said.

Lost in 2008:
The following are names of people killed in traffic fatalities in 2008 and the dates and locations where the crashes occurred in the Grand Lake area:

Mercer County
• March 15 -Jordan Moeller, 18, and Bradley Roeckner, 19, both of Chickasaw, and Jordan Diller, 19, and Jordan Goettemoeller, 19, of Maria Stein; at the intersection of County Road 716A and Brockman Road.
• April 27 - Megan Ann Jeffries, 17, Celina; St. Anthony Road, east of state Route 49.
• June 14 - Steven Henkle, 62, Rockford; U.S. 33, west of Harner Road.
• June 29 - Rachel Brackman, 21, Fort Recovery; U.S. 127, north of Olding Road.
• July 5 - Ryan Miller, 10, Coldwater; state Route 219, west of Gause Road.
• Sept. 5 - C. Stormey Banks, 44, Fort Recovery; state Route 219 in Macedon.
• Sept. 15 - Todd Adams, 31, Celina; state Route 219, east of Township Line Road.

Auglaize County
• Feb. 3 - William Monroe, Waynesfield; U.S. 33 and Goshen Road.
• March 23 - Vivian Adams, 87, Lima; Buckland-Holden Road and state Route 501.
• April 5 - Pamela Ogg, 50, Harrod; U.S. 33 and Townline-Kossuth Road.
• July 25 - Arthur Schaub, 69, Wapakoneta; Cemetery Road, Wapakoneta.