Saturday, January 3rd, 2009
Fort Recovery takes control in second quarter
By Gary R. Rasberry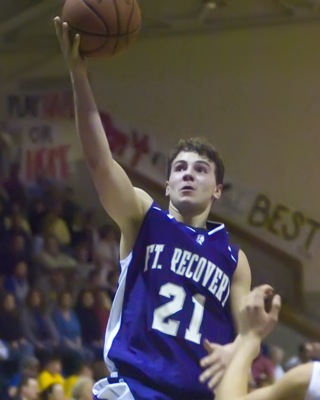 ST. MARYS - Fort Recovery used defense and a potent scoring run to pull away from St. Marys in the second quarter and never looked back as the Indians go to 5-2 on the season with a 70-50 win over the Roughriders at McBroom Gymnasium.
The loss drops the Roughriders to 0-7 on the season.
After a competitive start, which had St. Marys leading 13-10 with 3:31 left in the opening quarter, Fort Recovery began to go to work on the Roughriders, going on a 10-0 run to end the quarter for a 20-13 advantage at the first-quarter break. Nine turnovers in the opening eight minutes did not help the Roughriders' cause.
"For the first time this year, I was disappointed that we let some adversity affect us on defense," said St. Marys coach Paul Sadler. "Make no mistake, Fort Recovery is an excellent team and (Greg) Kahlig is as good a kid as we're going to see all year. But still, we turned the ball over (22 times total in the game) and hung our head on defense. It went from (Fort Recovery) making some contested shots to them getting easy ones in transition. ... This is the first time I've been disappointed with our effort on defense."
St. Marys looked to snap back as the second quarter began, as Derek Roop and Tyler Menker got back-to-back stickbacks to cut the deficit to 20-17 with 6:43 left in the half.
That, unfortunately, would be the last score for nearly six minutes for the Roughriders as Fort Recovery went on a 16-0 run. Brent Faller spearheaded the attack with a free throw followed by a three-pointer as Faller scored six of his seven points in the quarter. Greg Kahlig, Brady Kahlig, Frank Thien and Craig Tobe also posted points in the run.
When Menker finally broke the scoring run with a bucket with 46 seconds left in the half, Fort Recovery was out to a 36-19 halftime lead.
"I think the (defensive) pressure got to them," said Fort Recovery coach Brian Patch. "Frankie had eight steals (in the game). He gets our defensive guys going. He can apply pressure by himself and almost be a one-man press."
While Fort Recovery was hitting half its shots in the first half, going 13-of-26, St. Marys was just 8-of-21 (38 percent) from the field.
"Welcome to our season," said Sadler about the shooting. "Sometimes that tends to happen. (In) basketball, you have to have a short memory. If something bad happens to you, which it will time to time, you need to let it roll off your back and get focused on the next play as opposed to carrying it over."
"Overall, offensively, I was pleased," said Patch, whose squad finished the game shooting over 54 percent from the field (26-of-48). "We just did a great job hitting our open threes. It was a great team effort. Guys attacked and looked to set each other up."
A 6-0 start to the third quarter had the Indians doubling up the Roughriders at 42-19. Greg Kahlig scored 11 of the Tribe's 19 points in the quarter.
St. Marys finally began hitting shots in the final quarter, nailing five three-pointers in the stanza to raise St. Marys' shooting percentage to a respectable 46.3 percent (19-of-41), something that pleased Sadler.
"In a stretch in the fourth quarter, we finally started to look to execute our offense," said Sadler. "Our kids found out 'Hey, we can get shots off this,' and they got shots out of the offense. Hopefully, that is a positive that we can take from this."
"I thought it was a great effort on our part," said Patch. "I thought our kids executed really well on defense, made the extra pass on offense, 17 of our (26) field goals were assisted. So I thought our kids played a great game."
Greg Kahlig led the way for all players with 25 points, thanks in part to a 10-of-12 night from the foul line. Toby Metzger added 12 points with Tobe scoring 11.
Jake Taylor was 4-of-7 from behind the three-point line to pace the Roughriders with 14 points while Roop added 10.
Fort Recovery is back in action tonight, traveling to Spencerville to face the Bearcats. St. Marys returns to action next Friday, making the short jaunt to Celina to reopen Western Buckeye League play and face the Bulldogs in the Battle of Grand Lake.