Monday, January 5th, 2009
Teen organist makes church songs resonate
By Margie Wuebker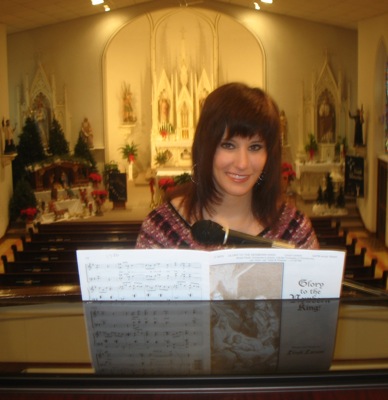 EGYPT - Organ music fills St. Joseph Catholic Church as members of the congregation arrive for Sunday morning Mass.
The dark-haired teenager at the organ console smiles as her fingers caress two rows of ivory keys and her feet move flawlessly over long wood pedals.
Sara Tobe, a Minster High School senior, feels right at home in the upstairs choir loft. After all, she has been church organist since the eighth grade.
"I started by helping out in the seventh grade," the 17-year-old recalls. "I would play one song like the 'Gloria' or the 'Holy, Holy' as a means of learning proper timing."
Theresa Dahlinghaus and Robin Hoying, who shared duties of organist at the time, offered helpful pointers. Tobe, the daughter of Lester and Kathy Tobe, learned quickly assuming the post when the other women headed off to college.
There have been occasional faux pas over the years, but they occur so infrequently the congregation seldom notices.
"I sit with my back to the altar and watch everything taking place through a mirror," she says. "This helps me stay in sync with the priest and watch for his cues. The last thing I want to do is start playing while he's still talking."
The mirror occasionally captures unexpected occurrences like a visiting priest from St. Charles Center in Carthagena falling down the sanctuary steps at Offertory time. She watched helplessly from the upstairs choir loft and continued playing, unsure whether he had merely fallen or suffered a heart attack. She sighed relief when the priest gingerly arose with the assistance of a parishioner.
An accomplished vocalist and a member of the All-State Honors Choir, Tobe also directs the Egypt choir, which includes members ranging from elementary students to senior citizens. Some have a knowledge of music thanks to participation in the school band while others merely enjoy singing without the benefit of formal training.
"I introduced some new music for Christmas and Easter the first year," she says. "It didn't go over too well at first as people went from singing something they knew to dealing with something entirely new."
Tobe did not hear comments - positive or negative - directly. They were channeled through her grandmother, Viona Schmiesing, and relayed by her mother. Now parishioners eagerly ask "What are you doing new this year?"
She enjoys selecting hymns but "Come To Me" remains her favorite after first hearing it at the funeral of a friend, Lauren Seffernick of Celina, who died of leukemia.
The congregation at St. John the Baptist Catholic Church in Maria Stein also benefits from her talent as she fills in occasionally for organist Paul Mizer.
"I remember the first time Sara played there," Kathy Tobe says. "She had been seated at the organ throughout Mass but heads certainly turned when she began singing the 'Hallelujah chorus. They were amazed to see a girl doing both."
Music continues to be an important part of Tobe's life. She began taking piano lessons from Betty Topp of New Bremen as a second-grader.
"Betty Topp became Sara's substitute grandmother," Kathy Tobe says. "She recognized her talent and pushed her to succeed."
When Topp retired, she became a student of Cheryl Christman of Anna, an accomplished organist in her own right. Christman also saw the talent and introduced her protégé to organ lessons as a sixth-grader.
"I enjoyed playing the piano but the organ proved to be a new challenge," the dark-haired teen admits with a smile. "Getting accustomed to the footwork was the hardest part."
Tobe, who envisions a career as a music professor at the college level, now travels to Bowling Green twice a week to take piano lessons with Dr. Robert Satterlee, a professor at Bowling Green State University, and organ lessons with Kevin McGill of Toledo.
"I do my homework in the car as Mom drives Interstate 75," the National Honor Society member says. "I have a drive to achieve and I've always had a thing about letting people down - that goes for music as well as my school work."
The drive to Sidney for vocal lessons with Franklin Fahrer is thankfully shorter. He has even imparted his knowledge of piano tuning.
Tobe, who plays principal chair alto saxophone in Minster's symphonic orchestra, is currently preparing for college auditions. She has been accepted as a dual piano and organ performance major at BGSU and remains in the running for a full-tuition scholarship. The teenager recently landed a $500 scholarship from the Toledo Chapter of the American Guild of Organists, where judges expressed delight that someone so young has taken to the organ.
Practice remains part of everyday life, although there are times she forsakes difficult classical pieces for a book containing Elton John favorites. She also enjoys listening to Indie Rock, pointing out the accomplished musicians are steps above pop rock purveyors.
"I want to pass on my love of music to others," Tobe says. "Whatever your passion in life, there is a way to accomplish goals. Yes there are sacrifices to make, but music brings such emotion, beauty, satisfaction and expression to life. It is so much more than notes on a page."