Tuesday, January 6th, 2009
Bulldogs bury Panthers during a first-half spurt
By Gary R. Rasberry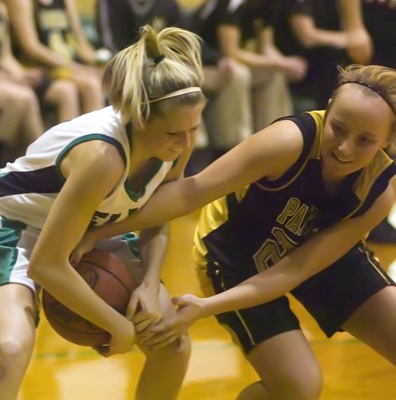 The Celina Bulldogs shook off a feisty Parkway Panthers bunch in the first quarter and pulled away for a 62-43 girls basketball win on Monday night at the Fieldhouse.
The win moves the Bulldogs to 5-3 on the season as the Panthers drop to 1-7.
The opening half of the first quarter was extremely competitive as the Bulldogs and Panthers traded baskets, with the majority of the buckets coming in a post duel between Parkway's Hannah Harshman and Celina's Cenzie Yoder.
Parkway held a 6-4 lead early and got the game tied up at 8-all with 4:07 left in the quarter on a Harshman basket.
"Parkway has some good athletes and they came out and played real hard from the get-go," said Celina coach Brian Stetler. "Have to give them a lot of credit for that. They have girls that will play hard."
That, however, would be the last tie of the game as Celina went on a 30-6 run over the first and second quarters. Celina coach Brian Stetler rotated players in and out of the lineup, with subs like Abbey Welker, Christine Thobe and Mackenzi Rutschilling scoring key baskets during the run. By the time the halftime horn sounded, Celina was up 41-20.
"It's good for us to finally get some shots down," said Stetler. "Once we started running the floor a bit, pushing the ball a little bit, that helped us get some shots underneath quickly."
The Bulldogs kept working the ball into the post in the second half and raised the lead to 53-27 after the third quarter. Celina neared the 30-point lead margin, but Parkway found a late run that brought the deficit to under 20 as Stetler got his starters out for most of the final quarter.
"I thought it was a good team night," said Stetler. "They worked together and we needed that.
"That was big (getting everybody in). We haven't been able to do that or haven't done it lately. It was good for our team, also."
"They had a good run during the first and second quarter and we got buried pretty deep," said Parkway coach Adrian Jazwiecki of Celina. "It took us until the second half to chip away at that. Otherwise, I think they had a pretty good effort."
Kelsey Waterman paced the Bulldogs with a double-double, scoring a game-high 16 points and pulling down 11 rebounds. Yoder added 15 points as nine of the 11 Celina players scored at least two points.
Harshman finished with 15 points for Parkway. Tara Luth and Jamie Guggenbiller reached double digits with late-game hot streaks, scoring 11 each.
Both teams are back in conference action on Thursday. Celina makes the trek to St. Marys to face the Roughriders while Parkway plays host to Coldwater.