Monday, January 12th, 2009
Redskins survive Bulldogs' late comeback
By Gary R. Rasberry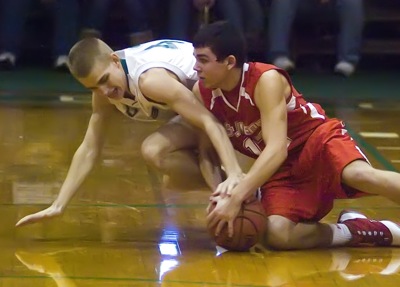 The extra day of anticipation for the long-awaited St. Henry-Celina boys basketball game did not dampen the action of the game.
St. Henry got out to a big early lead, only to have Celina come back and tie things up in the second quarter. The Redskins got the lead back to double digits in the second half, but had to hold off a fierce comeback effort by the Bulldogs to remain unbeaten with a 67-62 win.
The Redskins, playing Celina for the first time since 1985, move to 8-0 as the Bulldogs see a seven-game win streak snapped and stand at 7-2.
It looked early on as if the Redskins would try and knock out Celina early. Three-point shooting from Jason Westgerdes and Spencer Niekamp had the Redskins up 22-10 with 1:30 left in the opening quarter, but Celina came back, going on a 10-0 run to cut it to 22-20 early in the second quarter, then tying the game at 24-all on a pair of Jake Green free throws with 5:19 left in the half.
St. Henry dialed long distance to push the lead back up, hitting 8-of-13 from behind the three-point line in the opening half - with Westgerdes 5-of-6 from behind the arc - to go up 41-30 on Celina at the half.
The Redskins pushed the lead up to 54-40 after three quarters, this time by pounding the ball inside as Celina tried to cut off the perimeter game. Niekamp and Victor Fortkamp combined for 10 of the team's 13 third-quarter points.
"Both teams had to make adjustments defending people," said St. Henry coach Joe Niekamp, making his return to the Fieldhouse after serving as an assistant coach for Celina during the 1990s. "(Celina) had Green going in the first half (Green had 15 points in the first half). We were able to get some of that going in the second half."
In the fourth quarter, Derek Gagle got hot. The Bulldog senior, who sat for most of the first half with foul trouble and scored just two points, went to work, scoring 14 points in the final quarter and helped Celina slowly whittle away at the Redskins' lead.
"I don't know when it was exactly when they started making their run, but we had that 10-point lead and had a couple poor decisions on our passing, missed a couple of free throws," said Niekamp. "They (Celina) came down and turned it into points in a hurry."
"The first half, Derek is in foul trouble," said Celina coach Chris Bihn. "I don't think he played the second quarter. He came in, played under control and did some things out there trying to find the open guy. The second half, he came back out and continued his effort. I'm glad to see him play like that."
After a Darin Waterman bucket with 35 seconds left, Celina was down 63-59. St. Henry worked the ball around for 10 seconds before Niekamp was fouled. Niekamp made one-of-two at the free-throw line to make it a five-point game, but Gagle buried a three-pointer with 14 seconds left to make it a two-point St. Henry lead.
After Celina took its last timeout, Niekamp was fouled again. Again, Niekamp made the front end of two free throws to make it 65-62. Gagle rushed down and passed off to an open Waterman, whose trey try was off the front of the rim. Niekamp pulled down the board and was fouled with 2.1 seconds left. This time, Niekamp made both free throws to ice the game.
"We were pretty fortunate to hold on down the stretch," said coach Niekamp. "Gagle knocked down some shots and we missed some free throws. We didn't take care of the ball the way we needed (St. Henry turned the ball over 14 times, compared to five for Celina) in that little stretch of the game where we could have stayed, not in command, but in a power position. We didn't quite finish where we needed to.
"But, it still a heckuva win. A heckuva effort by our kids on the court of another team that is a good team."
"I thought our kids played well down the stretch tonight," said Bihn. "We came back. They never gave up. We had a chance at the end to tie. I applaud them and give them a lot of credit.
"I'll tell you what, that's a pretty nice team (St. Henry). They shoot the ball very well."
The Redskins finished the night shooting 22-of-39 from the field (56.4 percent), including a staggering 10-of-18 from the three-point range (55.6 percent).
Westgerdes, after scoring 15 points in the first half, made just one three-pointer in the second half and finished with 20 points. Fortkamp added a double-double with 17 points and 10 rebounds with Niekamp adding 16 points.
Gagle finished with 22 points, 20 coming in the second half. Green finished with 18 points, thanks in part to an 8-for-10 night at the foul line. Layne Klosterman added nine points.
Both teams make road trips Friday. Celina heads to the Cougar Den to face Van Wert while St. Henry goes up to Arnzen Gymnasium in Delphos to face St. John's.