Wednesday, January 14th, 2009
Hoying a PPK national champion
By Gary R. Rasberry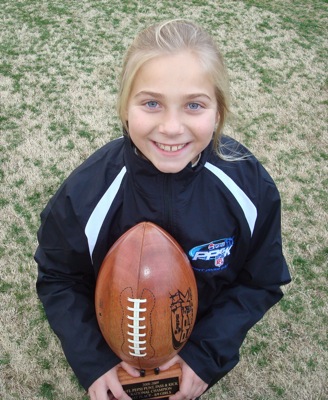 Coldwater is used to having state champions in a plethora of sports.
Now they have a National champion.
Maura Hoying, a third-grader from Coldwater, captured her age group's NFL Punt, Pass and Kick (PPK) national championship on Saturday at Bank of America Stadium in Charlotte, N.C.
"It's really exciting," said Maura during a telephone interview on Monday night. "It was fun to be on TV."
Hoying is no stranger to the PPK competition, finishing second in the national 8-9 year-old girl division last year.
This year, she won the local and regional titles before earning a trip to Carolina for the national finals after winning on Dec. 14 at Cincinnati.
In the finals, Hoying had a rough start, only punting 50 feet, four inches, last among the four finalists. She did better in her pass, throwing 60-9, the second-best effort.
To win the title, Hoying needed a big kick in the final leg of the event.
She got it, covering 71-2 on her kick, nine feet better than the next best effort, beating out Maci Hutto of Aiken, S.C. for the title with a total distance of 182-3, which would have placed her second in the 8-9 boys division.
"I kind of messed up on my punt. My throw was okay," said Maura. "But my kick was pretty good. That's how I came back and won it."
It took a little bit before the Hoyings realized she was the winner.
"It was shocking. The other girl's name started with an 'M'," said Maura. "They started to say 'Maci" (for who won second place), and I thought it was me, but it wasn't. I looked back at my mom and she was smiling, so I was smiling too. When they finally called my name, it was cool."
"It was great because we weren't sure she won," said mom Annette. "We knew it was going to be close."
The big reward came between quarters of that night's Arizona-Carolina NFC Playoff game, where all the winners were introduced on the field on national television.
"It was a little bit scary, but cool at the same time," said Maura. "It was cool watching the football players (from the sidelines). They were right beside you.
"There's so many people around you, they look like little dots in the stands."
"Seventy thousand screaming fans," said dad Gary Hoying. "I was very happy for Maura. "That was the main feeling everyone had. She's just a great kid. Everybody likes her and she wants to help out everybody."
Needless to say, it didn't take long for the Hoyings to get congratulations.
"Immediately," was Annette's answer to when the calls started coming in. "I have a daughter in junior high and one in high school. Their phones just went crazy."
While down in Charlotte, the Hoying family stayed at the same hotel with the Arizona Cardinals, allowing Maura to see players like Kurt Warner and Matt Leinart up close.
"I saw them walking by, now and then," said Maura, a Cincinnati Bengals fan. "We didn't get to meet them, but we saw them walk by, which was cool."
When the family got back into Coldwater later last weekend, the celebrations began.
"We had a house full of friends and family that had put big signs in the front yard and balloons and brought a bunch of food over," said Annette Hoying. "They were all here to celebrate when we got home last night."
On Monday at school, Maura, who didn't bring in her trophy, was immediately asked about her outcome.
"When I walked in, they were all asking me if I won or not," said Maura. "I said yes and my teacher was happy because she saw me on TV and knew I won."
It shouldn't be a surprise that Maura would be a whiz on the football field. She is a first cousin to former St. Henry and Ohio State quarterbacks Bob and Tom Hoying and to Cavalier linebackers Ross and Adam Homan.
"It's always fun to watch them tackle people," said Maura. "It's like 'That's my cousin.' Then you see them on the TV and hear their names."
While the Hoyings played a few years before her time, she has had plenty of chances to see the Homans play quite often.
According to Gary Hoying, Maura, who also swims in the summer for the Coldwater Cudas and plays baseball and softball, did not have to put a whole lot of time into practice.
"To be honest with you, she didn't have to work real hard," said Gary. "She's a pretty good natural athlete. She's got a lot of God-given talent. We went to Breakaway (Rec Center in Celina) after winning at the Bengals-Redskins game quite often, then we worked out inside on the soccer field."