Thursday, January 15th, 2009
Wind to make Grand Lake area feel like 30° BELOW
Frigid temperatures to remain through Friday
By William Kincaid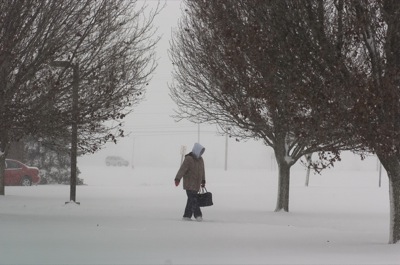 A frigid blast of snow and wind pummeled the Grand Lake area Wednesday, with dangerously cold temperatures expected today and Friday.
The low temperatures combined with west to northwest winds are expected to produce wind chills down to minus 30 degrees tonight. The National Weather Service has issued a wind chill warning until late Friday afternoon.
A low pressure system moved through the Midwest beginning Wednesday, with snow starting early in the morning, meteorologist Jim Loot of the National Weather Service in Wilmington said.
Nearly 5 inches of snow was reported as of this morning, with much of the heavy precipitation ending Wednesday afternoon, weather forecaster Dennis Howick of Celina said. A strong wind arrived behind this system.
"If at all possible, stay indoors," Loot warned.
If people must go outdoors, he recommended several layers of clothing, adding that all skin must be covered. During a wind chill warning, frost bite, hypothermia and death are possible if precautions are not taken, he said.
A nurse in the emergency department of Mercer County Community Hospital, Coldwater, said signs of frost bite include numbness and loss of sensitivity.
"I know people go to work, but cover up," she said.
Although she said she hasn't seen any cases of frost bite in a while, her department has treated many people for falls from the ice the last few weeks. The injuries included sprains, strains and broken bones.
At press time today, all local schools except New Bremen and Minster were closed because of the weather. Celina City Schools already announced a two-hour delay for Friday due to the cold temperatures.
Temperatures are expected to rise on Saturday to a high of 19 degrees.
Despite the subzero cold, no weather records were broken the last few days, Loot said. Howick said the area's record low is between negative 18 and 19 degrees.
Also, compared to the average three-month snow accumulation of 20 inches for November, December and January, Loot said Mercer and Auglaize counties are a few inches below that number. Howick reported 17 inches so far since November.