Friday, January 16th, 2009
Blessed with Tradition
Baptismal gown will soon be worn by 177th baby
By Shelley Grieshop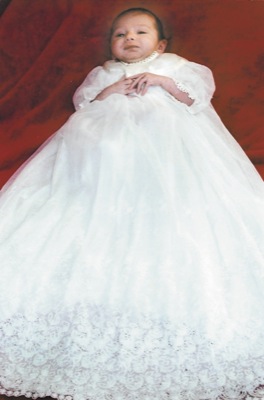 ST. HENRY - Winter was setting in when Helena Wuebker of Carthagena put the finishing touch on a pristine christening gown for her infant niece, Marie Lange.
It was 1917, the start of World War I, and most children's clothing was handsewn and made to last. The delicate and lacy baptismal dress was no exception, although Wuebker likely would be shocked to learn her gift is still bringing children to the baptismal font.
This month, the gown will be worn for the 177th time.
"Every one of us kids wore it," says St. Henry resident Leroy Lange, brother of 91-year-old Marie Lange (now Pottkotter) and 10 others.
All 12 children of Louis and Anna Lange wore the gown for their baptism and so did most of their descendants; it has served four generations of family members. Leroy Lange proudly states that he was the eighth child to wear it.
The tradition of passing down christening gowns from generation to generation is common throughout the world although most of the fancy robes don't hold up for more than a few decades of burping babies and leaky diapers.
Before the 17th century, newborns were wrapped in swaddling clothes and carried to the baptismal font in a "bearing cloth," a large square piece of silk trimmed in gold lace and braid.
The earliest gowns recorded in history were full-length to cover the infant's body and made of white silk. Most had a front opening fastened with ribbon or were left open to reveal a petticoat beneath. Gender didn't matter; male and female infants wore the same girly-looking gowns that are still the style today.
The Lange family's 30-inch long gown has an outside layer of soft netting that gives it extra fullness. The cuff of each sleeve and the neckline share a crocheted trim and the body of the flowing gown is graced with an embroidery pattern that begins midway and circles the dress to the hem.
A separate petticoat beneath the gown has solved a frequent problem for family members blessed with twins. However, Lange's daughter, Linda Mescher of Bellbrook, may have to find an alternate method this Sunday: she and her husband will baptize their infant twins and an adopted son.
Leroy Lange's sister-in-law, Edna Lange, has performed a few minor alterations on the gown over the years to keep it in prime condition. She replaced the yolk, which had yellowed, and strengthened a few hems, she says.
"We really have to be careful when it's washed," she says, adding it doesn't happen often and is always done by hand.
The Lange siblings all cherish the idea that so many children have shared in the tradition.
"The more the merrier," Leroy Lange adds.
His sister, Cleo Strete of Wapakoneta, thinks the heirloom should one day be framed. But that day is yet to come. Today, the family's treasure is carefully folded and tucked away in an old, white box that preserves much more than the fancy fabric that lies inside.