Saturday, January 17th, 2009
Cavaliers end four-game skid to Indians
By Gary R. Rasberry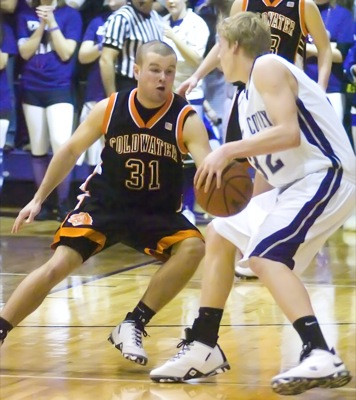 FORT RECOVERY - The last few years, the Coldwater-Fort Recovery series has been filled with some barnburners.
The last three games, the two meetings last season and this season's Mercer Health Classic final, were decided by a grand total of nine points, all won by the Indians.
So another close game figured to be coming on Friday and fans did not leave disappointed.
The Cavaliers used solid defense and timely shooting to get a 71-66 win in Midwest Athletic Conference action at Fort Site Fieldhouse, snapping a four-game losing streak to the Indians.
The win moves Coldwater to 6-3 overall and 2-1 in MAC play as the Indians drop to 7-3 on the season and 1-2 in the conference.
"For us, our kids look forward to playing Coldwater," said Fort Recovery coach Brian Patch, now 6-2 in his career against the Cavaliers. "We know they're really big and athletic and a good team offensively and defensively. For us, it's a great challenge. The last few years, the game has been down to the last possession. Tonight was no different."
Both teams shot exceptionally well. Coldwater shot 52.2 percent from the field with the Indians slightly behind at 51 percent.
The Cavaliers jumped out early, scoring the first six points of the game as Coldwater looked to get the ball inside to center Eric Lefeld.
"He's been struggling to score, but it was nice to see him score tonight," said Coldwater coach Mike Kanney of Lefeld. "We were able to get the ball into the post to him. He's a lot smarter about not putting it on the ground. When he was covered, he kicked it back out."
"It's hard for us to try and guard him," said Patch. "Greg (Kahlig) did a pretty good job."
Fort Recovery got back into the game and took a 17-16 lead early in the second quarter, only to lose it seconds later on a Tim Brunet stickback. The Indians tied the game with 40 seconds left in the first half on a pair of Greg Kahlig free throws, but Joe Thomas nailed one of four three-pointers on the night with 18 seconds left to put the Cavaliers up 27-24 at the half.
In the third quarter, Coldwater was able to slow down Kahlig, holding him to just one basket. Fort Recovery, however, got points from Toby Metzger and Craig Tobe to only trail 43-39 after three quarters.
Kahlig, the area's top scorer at just over 23 points a game, came back to life in the fourth quarter as the Indians tried to overtake the Cavaliers. Kahlig scored 16 points in the final eight minutes. Fort Recovery was as close as one point early in the quarter, but the Cavaliers tried to ride Lefeld, pounding the ball inside as the Cavalier center scored 10 of his 20 points in the fourth quarter before picking up his fifth foul with 1:18 to play.
"As a whole, I thought our kids gave a great effort," said Kanney. "We did a job guarding (Greg Kahlig). Other kids stepped up and hit shots. I'm just pleased with our effort."
The Cavaliers went to the foul line often in the final quarter, putting up 25 attempts, mostly in the final two minutes. Instead of padding the lead at the line, the Cavaliers made just 16, which allowed the Indians to battle back with buckets from Kahlig and Tobe. Coldwater did make seven of their last 10 free throws to help clinch the win.
"You'd think we'd get a nice lead (and) we're going to build on it. Next thing you know, they cut it to six," said Kanney. "We just have to hit our free throws down the stretch.
"Kahlig's a great player and he does a lot of nice things for them. Great ballgame on a Friday night."
"I thought we played well. I thought Coldwater played well," said Patch. "They're a good team. I thought we didn't capitalize enough when Lefeld went out of the game. I thought that's when we needed to go on a run.
"I thought we played well at the end of the game, not really being in those situations a whole lot. We had drives by Greg to set his teammates up pretty well."
Lefeld and Thomas combined to go 15-of-26 from the field, with both scoring 20 points.
Kahlig finished with 33 points, hitting 12-of-18 field goals and 5-of-6 from the foul line, while adding 10 rebounds. Tobe scored 15 and Frank Thien dished out 10 assists for the Indians.
Both teams are on the road tonight. Coldwater travels north to Delphos Jefferson as Fort Recovery makes the trip southeast to Houston.