Monday, January 19th, 2009
How Celina downtown parking could look
By William Kincaid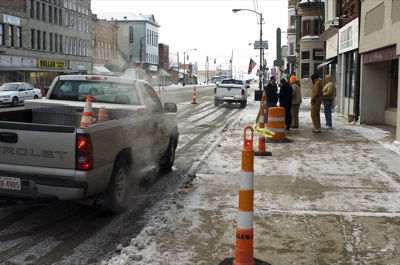 Celina city officials this morning gave a demonstration of how much narrower downtown sidewalks would be if Celina keeps angled parking and does not switch to parallel parking.
Downtown business and property owners were invited by letter to attend the demonstration at 8:30 a.m. today.
Using caution tape, parking cones and barrels, city officials simulated a 4-foot reduction of sidewalk on both sides of Main Street in a one-block area.
The city's current 45-degree angled parking is not in compliance with the state, Celina Planning and Community Development Director Kent Bryan said. Among other things, the city must eliminate all spots within 30 feet of intersections. The sidewalk and parking changes will be made as part of a downtown reconstruction project.
City Engineer Jeremy Hinton said if the city retains angled parking, sidewalks would have to be reduced from 161/2 feet to 121/2 feet.
"This is what we would have to have to be in compliance with angled parking with the Ohio Department of Transportation," Hinton said this morning.
Currently, the city has 158 parking spots over eight blocks. No matter whether the city chooses parallel or angled parking, the number of parking spaces will be reduced due to state requirements, Jared Ebbing, an engineer with Fanning/Howey Associates, Celina, said.
Angled parking - in compliance with state regulations - would result in 139 spots while parallel parking would result in 111 spaces.
Parallel parking would result in a 2-foot reduction of sidewalk on both sides of the street, as opposed to a 4-foot reduction with angled parking.
"There's a substantial difference," Hinton said about the sidewalk changes that could be made.
The majority of Celina downtown merchants who attended a December public meeting spoke out against the city's proposal to switch to parallel parking on Main Street. Many in attendance said they were worried their customers - especially the elderly who have mobility issues - would not want to parallel park or may have trouble finding a spot in front of their stores.
Since the meeting, both Hinton and Bryan said they've spoken with multiple property owners on Main Street. Some of the owners, according to Bryan, understand the city's dilemma and obligations to state requirements.
Downtown business owner Bob Heitkamp this morning said the demonstration was nothing more than a show by the city.
At the December meeting, Heitkamp said his primary concern was parking access in front of his store, GAMARAMA, not the sidewalk.
"Losing 4 foot of sidewalk is not want people want to do either," Bryan added.
City officials must make a decision on angled or parallel parking by Feb. 1.
"We've got to make a decision soon," Hinton said.
He also said officials from several communities recommended the city switch to parallel parking and maintain its wide sidewalks.
Celina's Main Street reconstruction project is slated to begin in 2010, with a combination of local, state and federal funding, including a $700,000 safety grant from the Ohio Department of Transportation. The reconstruction includes the street, sidewalks and parking, along with new stoplights, landscaping and decorative features.