Thursday, January 22nd, 2009
Residents invited to take the plunge for a good cause
By William Kincaid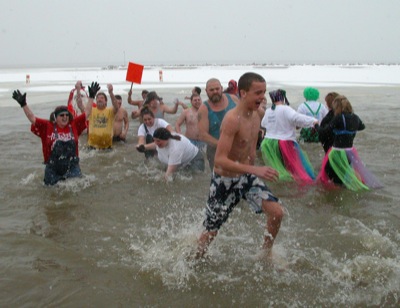 Local residents are invited to brave the frigid waters of Grand Lake in March to benefit the Special Olympics of Ohio.
Freezin' For A Reason Polar Bear Plunge will be held March 7 at the Celina Moose Lodge. This is the second year the lake has hosted the plunge.
Individuals or members from any organization or group can participate by raising a minimum of $75 in pledges, all of which will help more than 22,000 Special Olympics athletes in Ohio.
Participants obtain monetary pledges and then agree to "jump or slowly crawl" into the lake, Curt Howard of Special Olympics Ohio said in a press release. All plungers will receive a long-sleeve T-shirt and goody bag.
"Those not wanting to participate in the actual plunge are encouraged to support the activity by making pledges to those who dare to take the plunge," Howard said.
Last year 45 people participated, with hundreds of spectators. The event raised $11,500.
The Grand Lake Polar Plunge is one of eight scheduled throughout Ohio this winter.
On March 7 at the local Moose, registration will be at 11:30 a.m. with a costume contest scheduled for 1 p.m. The plunge will start at 1:30 p.m. and a post-plunge party is scheduled for 2 p.m.
Preregistration and other information is available at sooh.org.
Special Olympics Ohio provides year-round sports training and competition opportunities for adults and children with intellectual disabilities, giving them opportunities to develop physical fitness, demonstrate courage and experience joy as they participate in the sharing of gifts and friendship with their own families, their peers and the community, the press release says.