Saturday, January 24th, 2009
Economy helped by local airport
By William Kincaid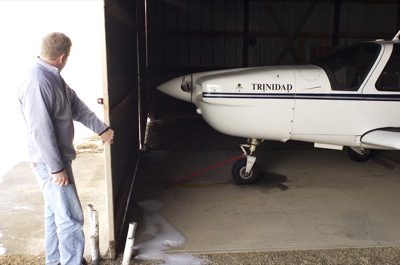 MONTEZUMA - A cold wintery day, to the surprise of many, is ideal for flying, Lakefield Airport Manager Scott Arnold says.
The last few frigid weeks have allowed for smooth and speedy flights because of the absence of thermal differences in the air.
"It's very enjoyable," Arnold says about his winter flights that he says often feel turbo-charged.
As for his responsibilities as manager, the simple things done well each day - cleanliness of facilities, comforting accommodations and amiability - are vital for keeping and attracting pilots, Arnold says.
"The guys just want a warm friendly place to stop in," he continued.
More pilots are coming to Lakefield each year because of local racing and other events, Arnold says. And when they're treated well, they'll return to Montezuma instead of landing at other nearby airports.
"The trend is increasing," he says.
With return trips comes additional fuel sales for Mercer County and support to local economies
In addition to NASCAR drivers and their crews, fans from across the nation who fly are also using Lakefield, Arnold says.
The increased traffic underscores the airport's role in economic development.
"This is an economic draw for the community," Arnold says. "This is not a private good ol' boys club down here."
With the ascent of a global economy, top executives cannot waste their time driving and proximity to an airport is a primary concern when companies seek to expand, Arnold says.
For instance, Arnold says a Minnesota businessman founded his operations at Sycamore Group complex in Coldwater in part because of the airport.
A nearly $1 million runway extension was finished last year, but some elevation problems with the safety area at the end of the runway need addressed, Arnold says.
The runway was extended from 3,800 feet to 4,600 feet, allowing 12- to 15-seater jets, such as corporate planes, enough area to land and take off safely. Previously, six-seat aircrafts such as Cessnas were the largest planes able to negotiate the runway.
Having the infrastructure in place allows for future economic development in the area, he says.
In addition to accommodating small jets, the extension also provides needed safety, Arnold says.
"Things happen very fast in an airplane," Arnold says, pointing out the extensions allows for a margin of error when pilots are taking off.
Arnold says he regularly works with Mercer County commissioners, Economic Development Director Larry Stelzer and other agencies to better package and promote the area.
He also pointed out that airport board member Tom Saddler - the former Celina downtown revitalization coordinator and co-chairman of Celina's Governor's Cup Regatta - was brought on last year to further promote the airport. Arnold also emphasized the importance of former airport board president Rick Slavik, who died Aug. 10, 2008.
"Slavik got it all rolling," Arnold says, pointing out he did much of the work 10 to 15 years before the airport received FAA grants for the extension.
Asked about the types of flights at the airport, Arnold says half are pleasure-related and half are business.
Also, Lakefield has a unique advantage that the approximately 90 other airports in Ohio don't: It's located by a large lake, which pilots are often curious about when planning their trips with a map.
Arnold, a native of Illinois who has lived near Minster for 12 years, learned to fly four years ago.
"It's fun to hang around pilots," he says about being manager.