Friday, February 6th, 2009
A musical exchange
By Shelley Grieshop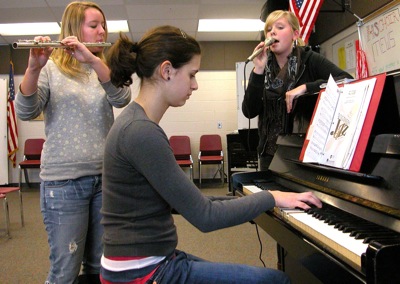 ST. HENRY - Thousands of miles from their homes in Germany and Italy, three teenage girls easily find common ground as they chat in the choir room at St. Henry Schools.
Weekend parties, the upcoming prom and boys are popular topics for exchange students Franzi, Lynn and Eva. But there's one subject that truly unites them: music.
"They speak the international language," jokes school Choir Director Candy Hemmelgarn.
Franzi Riede, 16, of Germany, plays piano; Lynn-Inken Heinrich, 17, also of Germany, is a singer and member of the school choir; and Eva Dorfmann, 18, from northern Italy, plays the flute with the school band.
The three will perform together at the school's spring concert May 5.
The girls officially became a part of the Redskin community after arriving in town in August. Franzi is staying with host parents Randy and Nancy Tumbusch; Lynn spent the first half of the year with Brad and Sara Evers and now resides with Bill and Jane Woods; and Eva lives with Mike and Peg Lange.
The girls say their musical backgrounds have helped them fit in at St. Henry High School.
Franzi, a junior, is very modest about her musical talent even though her fingers seem to float weightlessly across the ivory keys as she performs a slow ballad with Lynn and Eva.
"I've been playing since the second grade," she says shyly.
She also is taking guitar lessons at a home in New Bremen, she adds.
When asked if she performed at recitals or concerts at home in Germany, she cracks a smile. As many parents do, her mother and father bribe her into brief performances in front of friends and relatives.
"I am forced to play," she adds with a laugh.
Hemmelgarn says Franzi approached her at the beginning of the year with a request to practice on the school's piano since her host family doesn't have one in their home.
"She spends her study hall practicing piano. She is a very talented pianist," Hemmelgarn says.
Franzi's favorite music is French and her most admired composer is Yann Tiersan, who produces songs for the movie industry, she says.
Lynn, also a junior, is the most outgoing of the three and began singing in public four years ago following an assignment at school.
"Everybody said, 'Wow, that's good,' '' she says. "So I decided to make something out of it."
She recorded her first CD when she was 13, took singing lessons for a year and a half and then recorded another CD. Like Franzi, she also gets tapped to sing at home and for other private functions but also gives public concerts.
"I sometimes sing duet with my old kindergarten love," she says with an embarrassed giggle.
She sang a beautiful solo at the schools' Christmas concert in December and her mature voice took other students by surprise, Hemmelgarn says.
"The rest of the choir was so excited to hear her sing," she adds.
Lynn hails from the Comprehensive School Eckernförde, a music school "with many, many bands" for students to join, she says. A wide array of music courses are offered to students along with academic ones, she adds.
Lynn's favorite singers are Whitney Houston and Mariah Carey, she says. She loves the "team spirit" she's found at the local school but misses the mountains and her home along the Baltic Sea, she adds.
Eva, a senior, is a stand-out flute player who is currently taking private lessons in the community. She received a superior rating - the highest rating possible - two weeks ago for a solo she performed at the Ohio Music Education Association Solo and Ensemble Contest in St. Marys. She also was recently selected to be a part of the prestigious OMEA District 3 Honors Band, which performed in Lima on Sunday.
She's learned a lot in a short time, school Band Director Elisha Arnold says.
"When Eva came to St. Henry, she had never been a part of a marching band. She learned how to march and all the music in a little over a week and immediately started performing with us," she says.
During her stay, Eva has impressed her teachers and wowed an audience at the St. Henry Catholic Church. She has played the flute for 10 years and also plays piano "but I'm not very good," she adds with a grin.
Her school in Italy doesn't have a band to join but she plays in a community band with about 70 people of all ages. The group wears the country's traditional uniform, the Leiterhausen, when they perform.
"We have a major concert at New Year's and do other things during the year," Eva adds.
Although the community band marches in parades, the experience is nothing like the energetic dance steps the St. Henry Band is known for in local parades, she adds.
The girls say they'll return home in June with a new fondness for the farmlands of Ohio and the people who made them feel at home.
One of their souvenirs won't be tucked in their suitcase: the memory of the music they created with their new American friends.