Tuesday, February 10th, 2009
St. Marys falters late on homecourt
By Gary R. Rasberry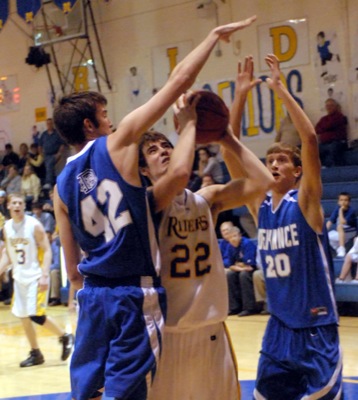 ST. MARYS - Trailing Defiance by eight points with 41/2 minutes left in the game, St. Marys found a way to get back into the contest and tied the game at 41-all with 1:52 remaining.
Unfortunately, the Roughriders suffered a bit of a defensive lapse in that final 1:52 to allow the Bulldogs to pull away for the 48-41 Western Buckeye League win at McBroom Gymnasium.
Defiance improves to 11-5 overall and 4-2 in the WBL, while St. Marys drops to 1-14 on the season and 1-5 in league play.
The loss took away a solid shooting night for St. Marys as the Roughriders shot 56 percent from the field - 14-of-25 - but were hampered by 14 turnovers and a couple key lapses on defense in the final minute of the game.
"We don't score a whole lot of points, as you know," said St. Marys coach Paul Sadler. "When you start hitting some shots, obviously, things look a lot better. We shot a higher percentage, at least in the fourth quarter, than we have been shooting. But you have to get it done at both ends."
The game featured 10 lead changes and two ties in the fourth quarter as the teams nearly matched each other point for point.
Defiance got a bit of a cushion in the third quarter as St. Marys went scoreless for nearly five minutes. Alex Nofziger helped spark the rally that had the Bulldogs up 31-22 with 1:15 to go in the quarter before the Roughriders snapped out of it with an Adam Lininger three-pointer with just a minute remaining in the quarter.
In the fourth quarter, Defiance was ready to try and put the game away as Nofziger nailed a three-pointer and Ron Beverly added a stickback bucket to make it 38-30 with 4:33 to play in the game.
After Defiance called a timeout, St. Marys came back quickly. Jake Taylor and Lininger hit back-to-back three-pointers to cut the deficit to 38-36 with 3:34 on the clock. After Alex Keel hit one-of-two free throws, Lininger dialed long distance again, sinking another trey to tie the game for the first time in the contest.
Defiance moved the ball around and looked inside to 6-6 Steve Hammersmith, who scored the layup with 2:05 left to put Defiance back in front. Lininger drove the lane and got the foul, sinking both free throws to tie the game again with 1:52 to go.
Defiance worked the ball to Alex Keel again, who scored with 87 seconds left to make it 43-41. Lininger tried another jumper, but the ball missed the mark and was rebounded by Taylor Keel. Sadler called for his team to foul, but Hammersmith got behind the Roughriders' defense, got the ball and scored with 39 seconds left to make it a four-point game.
St. Marys worked for the open shot, but was called for five seconds and turned the ball over with 27.9 seconds left. Nofziger was fouled and made both tosses to make it a six-point game. After another St. Marys miss, Alex Keel scored a free throw to ice the game.
"I was disappointed. To our kids' credit, they shot themselves back into the game by hitting threes by Adam and Jake, but we had defensive breakdowns that shouldn't have happened at all," said Sadler. "Alex Keel, we did a pretty good job being the pivotal player that he is. He got the ball in the big post - and we know exactly was he was going to do - our defender, instead of jumping to his left hand, where he always goes, didn't, so he was able to get to the hole.
"It's a two-point game, we're trying to foul. Have a guy who we want to foul, didn't give it, we relax and give up an easy layup. For us to lose defensive focus that late in the game, truly as we played well in stretches, you don't deserve to win the game if you can't maintain as an athlete the will to finish the game that's necessary to win in the WBL."
"Give St. Marys credit, they hit some open threes," said Defiance coach Kirk Lehman. "They did a great job of getting something in. Every time we'd make a run, they'd knock a three in and tighten it back up. What I was proud of is how our kids made plays when the game was tied. We didn't panic, and on the road, that was good to see."
Nofziger scored a game-high 14 points to pace the Bulldogs while teammate Alex Keel added 10 points and five rebounds.
Lininger scored all 13 of his points in the second half, 10 coming in the fourth quarter.
St. Marys stays at McBroom for a double-weekend, facing WBL-foe Shawnee on Friday before entertaining Auglaize County rival Minster on Saturday.