Thursday, February 12th, 2009
Windstorm strikes local area
By Shelley Grieshop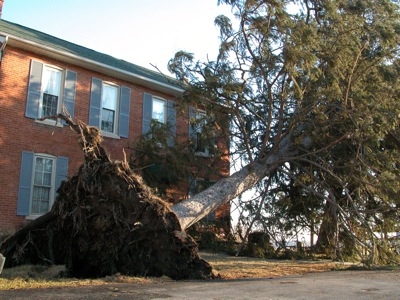 Hurricane force winds struck the local area Wednesday night downing trees and power poles and damaging buildings and vehicles.
No injuries were reported across the Grand Lake area. However, law enforcement was still receiving damage reports this morning from residents who woke to find siding and roof shingles ripped from their homes.
The local area also received more than an inch of rain since early Wednesday, according to local weather forecaster Dennis Howick. However, no major flooding was reported.
The National Weather Service (NWS) said a 69 mph wind gust was recorded at the Neil Armstrong Airport in New Knoxville at 10 p.m. Hurricane force winds are measured at 64 mph and above.
As of this morning, the highest wind gust recorded in Ohio overnight was 76 mph, which occurred in Union City in Darke County, Meteorologist Don Hughes of the NWS said.
A wind advisory remained in effect until 6 p.m. today; a previously-issued high wind warning was canceled.
Approximately 200 DP&L customers in Mercer and Auglaize counties were without power this morning, according to Judy Blair, the company's director of operations. Midwest Electric reported about 100 customers still without electric at mid-morning.
Nearly 205,000 Ohioans were left in the dark at the peak of the wind- storm that moved into the local area after 4 p.m. Wednesday. At the storm's peak, Dayton Power & Light had 55,000 Ohio customers without electric but by this morning that number dwindled to 7,000.
Emergency dispatchers in Mercer and Auglaize counties handled several calls overnight concerning electric pole fires and overturned semitrailers.
"We have a lot of leaning poles and downed wires but no major damage reported so far," said Carolyn Zenz, a dispatcher for the Auglaize County Sheriff's Department.
Mercer County Sheriff's Deputy Mark Heinl said a barn near the intersection of state Routes 118 and 29 went down as wind gusts increased throughout the evening.
"We had several transformer fires but nothing serious," Heinl said this morning.
Heinl said stop lights were still malfunctioning at several locations across the county.