Wednesday, February 18th, 2009
Waterman steps up on Senior Night
Celina senior hits game-winning free throws with just 9.9 seconds left on the clock in win
By Ryan Hines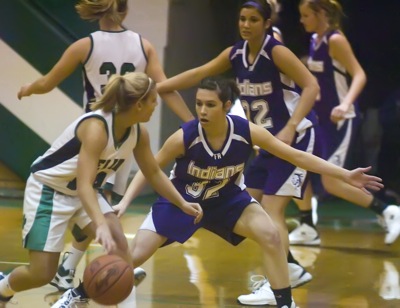 The Celina girls basketball team needed someone to step up big time if the Bulldogs were going to erase a 13-point deficit against Fort Recovery and end a three-game losing streak on Tuesday night.
Kelsey Waterman scored Celina's final seven points, including a pair of free throws with 9.9 seconds left in the game, to carry the Bulldogs to a 62-61 win over Fort Recovery at the Fieldhouse.
"It's just something that you'll never forget for the rest of your life," said Waterman about making the game-winning free throws in the last home game of her career. "To win by one point on Senior Night and for it to end the way it did, it's a lot for the team to be proud of."
After scoring just four points in a dismal first-half performance by Celina, Waterman erupted for 17 points in the second half and made Senior Night an evening that the Bulldogs' senior quartet will remember forever.
The one-point victory ended a three-game skid for the Bulldogs (13-6), much to the delight of Celina head coach Brian Stetler.
"Over our last four games (Minster, Crestview, Lima Bath and Fort Recovery) we've played against state-caliber teams and we've played some good basketball in those games, but we were coming up short," said Stetler. "Over those last four games, I'm not sure if anyone in the state of Ohio has played a tougher schedule, so it's a nice reward for the girls to get a win against a quality team like Fort Recovery."
After the first half of action, it looked like Celina was going to have a four-game losing streak heading into Thursday's regular-season finale as Fort Recovery used physical play to hold a 32-19 lead at halftime. Fort Recovery had a 24-10 advantage on the boards at halftime and leading scorer Joanna Snyder shredded the Celina defense for 15 points and also had four assists before the intermission.
With Fort Recovery's lead up to 14 points early in the third quarter, Celina went on a 19-2 run over a 4:49 time span to charge in front 44-39 for the Bulldogs' first lead since late in the first quarter. Waterman scored eight points during the Bulldogs' spurt while Cenzie Yoder added four points to go along with a pair of three-point bombs by Candra Francis and Gina Everman.
The momentum quickly turned back in favor of Fort Recovery as Kinsey Wenning scored seven of her nine total points in the final 58 seconds of the third quarter to knot the game at 46-46 going into the final quarter of play.
Fort Recovery was up five points at 53-48 at the 4:31 mark of the fourth quarter when Yoder and Everman hit back-to-back buckets to make it a one-point game at 53-52 with just over three minutes left in the game.
A pair of Anne Koesters free throws pushed Fort Recovery back up by three points, but a Francis three-pointer and a Waterman free throw gave Celina a 56-55 advantage at the 1:44 mark. The Indians got two points each from Snyder and Wenning to go on top 59-56 with just over a minute left in the game, but four quick points by Waterman put Celina back in front 60-59 with 31 seconds on the clock.
At the 20-second mark, Fort Recovery's Kendra Brunswick put the Indians on top 61-60 with a deuce before Waterman hit her game-winning free throws with 9.9 ticks left in the game.
"I felt that we needed to attack the basket to score and I feel physical enough to go in there and just tried to do what I could to help our team win this game tonight," said Waterman. "When I went to the line at the end of the game, I just kept telling myself that we all worked too hard to not win this game."
"Kelsey was definitely the go-to person for us tonight," said Stetler. "You could see it in her eyes that she really wanted to win this game and she played the way that we needed her to play in order for us to come out on top tonight. She is such a competitor and she just didn't' want to lose this game tonight."
Fort Recovery had a shot to win the game on its final possession, but Snyder drove the length of the floor and passed to Wenning on the wing and she missed the shot before Brunswick's offensive rebound and stick back was blocked as the buzzer sounded.
Celina's efficiency at the free-throw line went a long way in deciding this game as the Bulldogs connected on 23-of-27 (85 percent) from the charity stripe while Fort Recovery was 9-of-14.
"If you are going to win close games, you have to be able to make free throws and our girls did a good job of getting to the free-throw line and converting once they got there," said Stetler.
In addition to Waterman's team-high 21 points, Celina also got 16 points from Yoder and 12 from Everman.
Snyder had 21 points to lead Fort Recovery but just six of those points came in the second half. Chelsey Leuthhold added 10 points and eight rebounds, all offensive, for the Indians.
Celina will wrap up the regular season and the Western Buckeye League slate with a road contest on Thursday against Ottawa-Glandorf while Fort Recovery will try to earn at least a share of the Midwest Athletic Conference crown with a home date against Delphos St. John's, also on Thursday.