Thursday, February 19th, 2009
Homan does not dispute cocaine sale to driver
By Margie Wuebker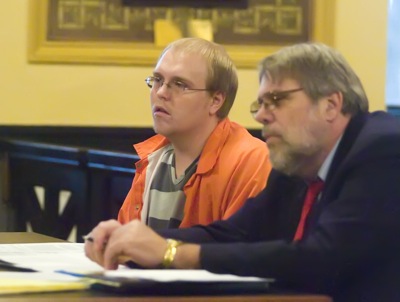 A St. Henry man faces up to 10 years in prison for his role in a March 15 traffic accident that claimed the lives of four Marion Township men.
Staush M. Homan, 23, 582 N. Eastern Ave., pleaded no contest Wednesday morning in Mercer County Common Pleas Court to four counts of reckless homicide, all third-degree felonies, and two counts of trafficking in drugs, both fourth-degree felonies. As part of a negotiated plea agreement, the state dismissed four counts of involuntary manslaughter, all first-degree felonies.
A stipulation of facts indicates Homan sold cocaine to Nicholas Schwieterman in the hours before the 2:51 a.m. accident at an intersection near St. Sebastian. Schwieterman was the driver of the car that ran a stop sign and hit the car carrying 19-year-olds Jordan Moeller, Jordan Diller, Jordan Goettemoeller and Bradley Roeckner, who were all killed.
The drug transaction reportedly occurred the evening of March 14 in the parking lot next to TD's Pub & Grub, 107 S. Second St., Coldwater. Homan and Schwieterman apparently arranged the buy over the telephone.
Months of plea negotiations resulted in Mercer County Assistant Prosecutor Matt Fox agreeing not to seek a prison sentence exceeding 10 years for Homan. Judge Jeffrey Ingraham has the option of accepting the recommendation or tailoring a sentence of his own for imposition March 18.
After the fatal car accident, blood and urine tests were performed at Mercer County Community Hospital in Coldwater showing Schwieterman was under the influence of alcohol, cocaine and marijuana when he drove through the stop sign.
During the ensuing investigation, a confidential informant associated with the Grand Lake Task Force set up a buy at the same location, purchasing 1.3 grams of cocaine for $100 on March 28. Fox indicated the parking lot is situated within 1,000 feet of a school resulting in more serious felony charges.
Homan remains incarcerated on a $1 million bond.
During Schwieterman's plea negotiations, he agreed to testify truthfully against Homan in the event the case went to trial.
The maximum combined sentence for all six charges against Homan is 23 years in prison, fines totaling $50,000 and an operator's license suspension of up to 10 years with one year being mandatory.