Saturday, February 21st, 2009
St. Marys couple shares their love with others
By Margie Wuebker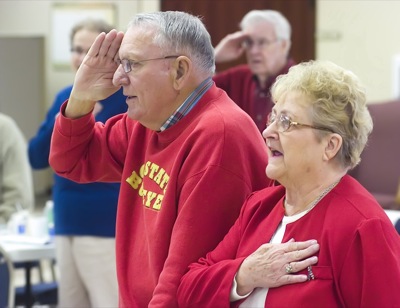 ST. MARYS - The Rev. Jim and Lucy Nuhfer believe in sharing the gift of love not only with each other but with others through countless hours of volunteer work.
Ohio First Lady Frances Strickland and the Ohio Department of Aging hosted a Feb. 13 reception at the governor's residence honoring recipients of Joined Hearts in Giving awards. The Nuhfers -the first area residents to receive such recognition since the program debuted in 2000 - were among 31 other long-married couples who share a commitment to helping others.
The Nuhfers, who have been married 56 years, learned of their selection two weeks ago when an invitation arrived in the mail.
"We had no idea whatsoever that Chris Roby from the Auglaize County Council on Aging nominated us," Lucy says. "Now we know why she snapped a picture of us at the center .... it was no spur-of-the-moment shot."
Jim chuckles recalling the first moment he first set his sights on Lucy. It occurred many years ago in Woodville, where they both lived.
"I spotted this young lady in the congregation and told a companion I planned to marry her one day," he says. "I learned years later her mother overheard the comment."
He remembers skipping out of Sunday school class on one pretext or another to visit her in the church office.
"I was Sunday school secretary and he always found a reason to come by the office," Lucy says. "I agreed to one date and the rest is history."
They exchanged wedding vows Sept. 14, 1952, and he continued working as a farmhand. A U.S. Army draft notice arrived three months later. He reported to Fort Knox, Ky., in February for nine months of training before heading overseas.
"The Korean War had started and I got an emergency five-day leave in order to hold our newborn daughter before shipping out for 18 months," he says. "Leaving them at the hospital was so hard, but thanks to photographs and stories, Lucy made sure I wasn't a stranger to our child."
Jim helped military chaplains arrange church services overseas and realized his calling in the process. Lucy made all the arrangements for his admission to Otterbein College in Westerville, found suitable housing and started a nursery school before he returned stateside.
After completing his studies, he served as student pastor in Rossford before embarking on a 45-year career that included ministerial assignments as far north as Toledo and as far south as Dayton. In 1963, he was ordained an elder at the Ohio Sandusky Conference of the Evangelical United Brethren Church at Camp St. Marys and later graduated with a master's degree from United Theological Seminary in Dayton.
Jim also served at numerous church camps including Camp St. Marys where his family maintained a cabin that doubled as a storage and work area. It was here the couple developed camping programs for the mentally, physically and emotionally challenged with Lucy arranging craft programs.
They eventually moved to Otterbein St. Marys Retirement Community after retiring in June 1969. He accepted a pastoral appointment at Grace United Methodist Church in St. Marys before retiring a second time in 2004.
The Nuhfers, who have three children and three grandchildren, remain active volunteers at their church and the Council on Aging. They also frequently conduct Sunday night vesper services at Otterbein.
Jim, at age 77, is a life member of the Veterans of Foreign Wars in St. Marys, where he is post chaplain and a housing committee member. He also holds life membership in local American Legion Post 323, handling the duties of chaplain and service officer. He is vice president of the Sources Board of Auglaize and Mercer counties, a post he has held since August 2005, and a Joint Township District Memorial Hospital volunteer.
Lucy, at 74, is her church's mission chairperson and president of United Methodist Women. She also provides holiday programs for organizations throughout the community and volunteers at Agape.
Jim, who has weathered colon cancer, quadruple bypass heart surgery and surgery for a debilitating back condition and now undergoes dialysis three times a week, claims the satisfaction from helping others is the best medicine in the world.
"Our philosophy when it comes to marriage is communicating with each other," he says. "She's my best friend and I'm hers. That's the greatest blessing of all."