Monday, February 23rd, 2009
Celina gets thrashed by LCC
By Gary R. Rasberry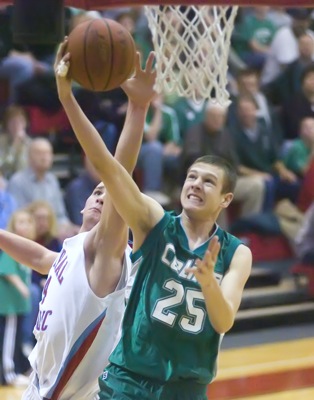 LIMA - Fans had to wonder how the Celina Bulldogs would react after losing their first Western Buckeye League game on Friday when the team traveled to Herr Gymnasium on Saturday to face always-tough Lima Central Catholic.
The answer did not take long to be revealed.
The Thunderbirds used several short runs to pull away and hand the Bulldogs a 64-44 defeat, just the second time this season that Celina (12-6) has lost consecutive games. LCC improves to 14-5 on the season.
After a first quarter where Celina had a three-point lead on LCC and was within two points with 42 seconds left in the quarter, things fell apart quickly.
The T-Birds quickly pushed the lead up to 11 points midway through the second quarter thanks to clutch shots from freshman Ty O'Connor and juniors Sam Stolly and Desi Kirkman. Celina tried to recover, but trailed 32-26 at the break.
"We just did not have any energy tonight," said Celina coach Chris Bihn. "We didn't play with any fire, any emotion, any heart. Defensively or offensively, we struggled.
"I don't know if it was the aftershocks of last night (Friday's 74-62 loss to Ottawa-Glandorf at the Fieldhouse) or what it was, but we sure didn't come to play tonight."
"Both teams played emotional games last night," said veteran LCC coach Bob Seggerson. "We played at Columbus Grove for a league title (which LCC won 50-34 to clinch a share of the Northwest Conference), they played for a league title. The big difference is they had to get on a bus. That's not making excuses. I just think we looked a little fresher. That could have made the difference in the game."
LCC worked hard to keep tabs on the Celina scoring trio of Derek Gagle, Jake Green and Darin Waterman. Seggerson admitted that the prime focus was on the 6-6 Green.
"Our first goal was Green. We guarded him with five guys," said Seggerson. "We were trying to get someone in front and someone in back. For the most part, we did that. When he did get the ball, he basically scored, but I thought we did a pretty good job making it hard for him to get the ball.
"Gagle is like 'pick your poison.' Guard him close, he goes by you. Guard him off, he gives you the three. We just tried to make him work as hard as he could too, and got a lot of help on him."
The end result was Green finishing with 13 points on 6-of-9 shooting while Gagle struggled, connecting on just 6-of-17 from the field for a team-high 15 points. Waterman was also unable to get on track, making four-of-nine field goals for just eight points.
In the third quarter, Celina got to within four points, but a 9-0 Thunderbirds run, one of two 9-0 runs for LCC on the night, made it 50-36.
"(LCC) has a nice defense that does a lot of nice things," said Bihn, whose team committed 13 turnovers and shot just 37.5 percent from the field. "But we didn't have any focus. We didn't come (to play) tonight."
Sam Stolly led LCC with 16 points. Kirkman added 15 and pulled down 10 rebounds with O'Connor scoring 14.
Celina will look to secure a share of the WBL title on Friday, hosting Defiance in the league finale before wrapping up the regular season on Saturday with a road trip to Delphos to face the St. John's Blue Jays.