Thursday, March 5th, 2009
Hits made during drug searches at area schools
By William Kincaid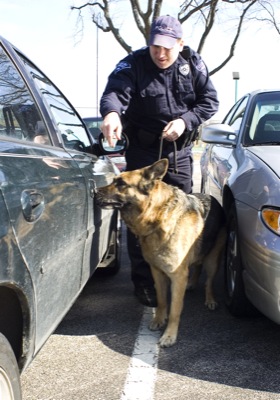 Area law enforcement with their canine units conducted a narcotics sweep of Celina and Coldwater schools on Wednesday.
Marijuana was found at Celina High School, resulting in possible misdemeanor charges and disciplinary action from the school against two students.
No drugs were located at Coldwater High School.
At Celina, the drug search lasted from 1 to 2:30 p.m. and included the high school, parking lots and surrounding streets.
A canine unit alerted officers to the truck of 18-year-old Joseph Adam, according to a press release from the Celina Police Department. When brought to his truck, Adam admitted to having a small bag of marijuana in the glove box, the press release says. Adam, of 7482 Bogart Road, Celina, was issued a summons for a minor misdemeanor possession of marijuana charge.
Inside the school, 21/2 joints were found in a partial pack of cigarettes in a locker belonging to a 16-year-old male student. The student was removed from his classroom and turned over to officers, with charges pending through the Mercer County Prosecutor's office. Because the student is a juvenile, his name was not released.
Both students also are facing possible disciplinary action from the school, according to the press release.
Drug dogs also were alerted to another locker and two other vehicles, none of which yielded charges.
"In one locker, a jacket with the distinctive odor of marijuana clinging to it was all that was found," the press release says. "Clothing that has the odor of smoked marijuana in the cloth can cause canine units to react, even though no actual marijuana is present."
Also, a student's vehicle parked on Devonshire Drive across from the school was searched by officers, who found trace amounts of marijuana on the floorboard carpet, according to the press release.
However, the student in question claimed she had the car for about a week. That claim was confirmed and secondary evaluations of clothing and personal belongings revealed no indications of drugs, the press release says.
No charges were filed, and it was suggested the student clean the interior of the car and have a canine unit check it again to insure all traces of drugs have been removed from the car.
Earlier in the morning, a similar drug sweep was conducted at Coldwater schools, according to Coldwater Police Chief Randy Waltmire.
No drugs were found or charges filed, but dogs alerted officers to one area of lockers in the high school and three automobiles in the surrounding parking lots.
"Searches of all alerted targets were conducted but nothing was found. The alerts can be attributed to residual odor," Waltmire wrote in a press release.
Coldwater schools Superintendent Rich Seas and Waltmire worked together to plan the lock-down drill and drug sweep.
"This is the result of an increase in drug reported activity involving minors with the village of Coldwater," Waltmire said in the release. "In the last couple of years, we have made arrests of school-age youths for possession of marijuana with some occurring on school grounds."
He also wrote that more random drug checks may occur in the future.

Officers, trained dogs search school:
At around 1 p.m. Wednesday, an announcement runs across the Celina High School broadcasting system, alerting all students to quickly go to their classrooms and remain there.
Celina Police Department, with help from the Sidney and Delphos police departments and the Auglaize and Mercer County sheriff's offices, are conducting a narcotics sweep of the school.
"It's a good reminder for kids (to know) that we take it pretty seriously," Superintendent Matt Miller says about the drug sweep.
Area K-9 units and school maintenance employees, who assist in providing officers full access to all areas of the school, are spread throughout the high school.
Celina patrolman Dan Harting and his 91/2-year-old partner Nick the dog rush past lockers in the senior hallway. Nick sniffs the outside of


the lockers while Harting insures the dog doesn't miss any of them.
Asked about the narcotic detection process, Harting compares it to being around smokers. Harting, a non-smoker, can immediately tell if a person smokes cigarettes, just as Nick can easily smell drugs, both legal and illegal.
For humans, it would be like being in a room where cookies are baking - an overwhelming smell that is easily identifiable.
"(His) nose is so sensitive," Harting says.
After clearing the hallway with no hits, Harting and Nick go outside to check the parking lot and surrounding streets.
The process is exhausting for Nick, says Harting, who occasionally pours the dog water from a bottle.
The school parking lot is just like any other public lot - officers are legally permitted to search such grounds at any time, Harting says. If Nick alerts Harting of a possible hit, he will eventually search the car, with the driver's cooperation or not.
"The dog alerts, it's my car now," Harting says.
If a student declines a police search of the vehicle, it can be towed by the police and eventually checked after a search warrant is obtained, Harting says.
But usually, the driver in question complies, Harting says.
Miller says the annual search - conducted through a partnership of the school and the Celina Police Department - is necessary to keep the facilities drug free.
- William Kincaid