Friday, March 13th, 2009
Sharing a faith and a name
Celina pastor and wife assist people in Ghana, Africa
By Margie Wuebker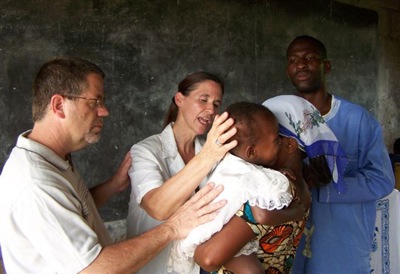 Pastor Randy Christian and his wife Tricia discovered a bit of home during a February trip to the Republic of Ghana in West Africa.
The couple, who minister at The Lord's Church in Celina, found a small congregation bearing the same name in a small village where Americans with white skin are held in awe.
Started by their friends, Anthony "Tony" and Emma Afagbedzi, the church holds services at the Strong Faith Academy - a private school which provides instruction in reading, writing, mathematics, English and Christian values.
"The village is small without electricity or running water," Christian says. "The people deal with poverty day in and day out but they are not poor in spirit."
He initially met Tony Afagbedzi during a trip to Africa five years ago and was touched by the man's enthusiasm to improve the lives of youths in the closely-knit village.
"Tony and his mother lived on the streets for several years," Christian says. "He wanted something better for young people in Omanjar and his sincerity touched my heart."
The local congregation sent donations to help his newly-established academy, which accepts students ranging in age from preschool to high school. The school opened with just one pupil. However, enrollment swelled to four by lunchtime.
Afagbedzi quickly assumed the role of recruiter, going from one shack to the next in search of students. It frequently took more than one visit and sometimes even scholarships to promote educational opportunities. Enrollment now stands at 261 with seven teachers overseeing classes.
It was during a recruiting mission that Afagbedzi met 14-year-old Derek preaching along a dusty road to anyone willing to listen. The boy, who dreams of becoming a minister, currently attends the academy but plans to come to Celina at some point and reside with a host family.
Christian believes Derek will overcome educational challenges in time and gain admission to a seminary in this country.
The Christians brought along gifts like Bibles, cross necklaces and wristbands bearing inscriptions like "Jesus Loves Me" and "Keep the Faith." They also brought flash cards featuring words, numbers and characters like Dora the Explorer and Strawberry Shortcake.
Children migrated toward the Christians and in particular toward Tricia, touching her hair and then gently rubbing her wrists to see if the pale skin color rubbed off on their dark fingers. Seeing white people was a new experience for the throng, Christian said.
Dusty roads cut a swath through the village with the center lane reserved for bicycles, scooters and motorcycles. Vehicles - primarily public transportation - travel on either side of the middle lane with pedestrians walking in the street because there are no sidewalks.
"Old taxis and rickety vans constitute public transportation," he says. "We quickly decided it was better to walk after seeing 27 people stuffed in a 15-passenger van without air conditioning on a 90-degree day."
The Christians resided at a small health center that had limited electrical power and no running water. People came from far and wide for treatment of various maladies and women in labor came to give birth. There were no overnight accommodations. Women spent six hours there following delivery; then picked up their babies and walked or rode home.
"The mothers asked us to pray over the babies," Tricia Christian says. "The images of those innocent little faces will remain branded on my heart. I wonder what the Lord will do with them in the years ahead."
Randy Christian, who battled malaria throughout much of the 18-day stay, had blood work performed there but refused intravenous feedings during his illness, fearing substandard sanitary conditions. The Christians steered away from most African food with the exception of fresh fruit, augmenting their diet with peanut butter, jelly and crackers they brought along.
Both grimace recalling the sights and smells of the marketplace - meat hanging from posts and fresh fish stacked in barrels in the 90-degree heat. They attended a special African meal but could not bring themselves to dip chunks of unbaked bread dough into a communal pot and enjoy the delicacy containing fish heads with beady eyes in a rather syrupy liquid.
"The visit proved to be a life-changing event," Randy Christian says. "We are so blessed in this country but we don't appreciate what God has given us. Seeing such happiness amid such poverty changes your whole outlook on life."