Saturday, March 14th, 2009
Rangers' 49-game winning streak snapped
Ada tops undefeated New Knoxville to win district title at Wapakoneta
By Gary R. Rasberry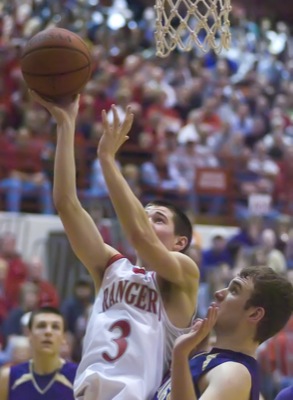 WAPAKONETA - It was a strange site to see at Wapakoneta High School on Friday.
For the first time in a long time, the scoreboard at the end of the game wasn't indicating the score in favor of New Knoxville.
The Rangers struggled with their shooting and rebounding as the Ada Bulldogs ended New Knoxville's long winning streak with a 52-45 decision at the Division IV district championship game.
It will be the Bulldogs (20-3) advancing to the Fairmont Regional next week to play Summit Country Day (14-9) at 8 p.m. on Tuesday.
It was the first loss for New Knoxville (22-1) since losing to Georgetown in the regional finals on March 16, 2007, snapping a 49-game winning streak.
The Rangers struggled with their shooting for against the Bulldogs, going 15-of-41 (36.6 percent) from the field, including a chilling 4-of-22 from behind the three-point line.
And when New Knoxville shot, second-chance opportunities were rare as the Rangers were outboarded by a 36-22 margin, including 14-6 on the offensive boards.
"We couldn't put the ball in the hole," said New Knoxville coach Dan Hegemier. "You've got to score, got to shoot. We've got good shooters, good support. Just couldn't drop enough shots.
"Ada did a great job on both sides of the boards. We had very few offensive rebounds. They had quite a few to start the game. We tried to crash the boards more. It looked like we were spinning our wheels, going uphill the whole time in a big mud puddle."
Early on, it looked like the Rangers were in line to pull away as Ryan VanderHorst and Brad Piehl helped put New Knoxville up 7-2 early. The Bulldogs roared back as Konnor Baker scored to cut it to 7-4 and 6-7 Aaron Cross drilled a three-pointer to tie it at 7-all.
"For us, it was just that we had to calm down, relax and settle in defensively," said Ada coach Chris Sautter.
The Rangers came back to go up 13-9 early in the second quarter, but that would be the last big lead for New Knoxville as the Bulldogs closed out the half with a 15-4 run to take a 24-17 lead at the break. Cross had seven points in the quarter and Mitchell Faine added six more during the run.
New Knoxville started the second half with more aggression on both sides of the court as Austin Arnett caught fire in the third quarter, scoring all seven of his points during the stanza as the Rangers got as close as 30-27 before Ada pushed the lead back to six at 33-27 going into the fourth quarter. The Bulldogs changed from their man-to-man, something that Sautter went exclusively with midway through the season, to zone which cut down on Piehl's ability to get the ball to the basket.
"It kind of slowed them down. Piehl was really hurting us inside, getting everybody inside into foul trouble," said Sautter. "Once we switched that, it kind of saved us a little bit. Our kids were working so hard."
In the final quarter, the Rangers made several runs at getting back into the game. Derek Dicke hit an old-school three-point play with 6:55 to go to make a four-point deficit, then after an Ada free throw, VanderHorst buried a two-pointer to make it 36-33. After Faine nailed a three-pointer to push it to six, Piehl hit a pair of free throws to get back to within four.
After Konnor Baker hit one free throw at the 2:49 mark to make it 42-37, Piehl hit two free throws to make it a three-point game again. Baker went back to the line for a one-and-one with 2:20 left, but missed the front end to give the Rangers the chance to possibly tie it. VanderHorst missed a three and Piehl rebounded, but was called for the offensive foul with 1:48 left.
The missed opportunity was costly, as Cross hit his third trey of the game to make it 45-39. From that point on, Ada just needed to hit its free throws, which Kyle Baker, Heath Jackson and Cross did, sinking five-of-six down the stretch to get up as many as 10 points.
"They (New Knoxville) deny so well it makes it hard to get into anything," said Sautter. "We thought we maybe could spread it and get some stuff going to the basket, or maybe penetrate and dish. Aaron got a big three. Then we started getting to the foul line."
Cross led Ada with 19 points and pulled down eight rebounds while Faine added 16.
Piehl, who will head to NCAA tournament bound Robert Morris next season, concluded a fine career with 20 points and eight rebounds. VanderHorst added 11.
Hegemier showed his pride for his team, especially for the five seniors - Piehl, Dicke, Arnett, Caleb Allen and Kyle Merges - for what they have done for the program.
"These kids have been outstanding. They've done a lot. I don't know of any other team for a long time that has accomplished as much as these guys," said Hegemier. "They just hit a night where they couldn't shoot it.
"I'm going to start crying because I'll miss them. Good guys, real good kids. Whenever I came to the gym when tired or upset, just being around those guys, it was just fantastic."