Monday, March 16th, 2009
Cavs shock O-G for district title
Coldwater plays well in second half to knock off defending state champs
By Gary R. Rasberry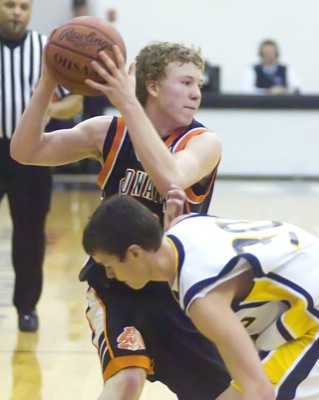 ELIDA - Things did not look good for the Coldwater Cavaliers after the first 16 minutes of their Division III district final game against Ottawa-Glandorf.
The Cavaliers were down 32-21, hampered by a fullcourt Titans press and a cold shooting stroke.
Coldwater coach Mike Kanney sat his guys down for what he later described as a "heart-to-heart talk".
Whatever was said, it worked.
The Cavaliers turned the tables on the Titans in the second half, shooting 72 percent from the field and coming back to capture the district with a 58-54 win at the Elida Fieldhouse on Saturday afternoon.
The win allows the Cavaliers (17-6) to advance to their first regional since the 1998-1999 season on Wednesday at 8 p.m. against Mansfield District winner Colonel Crawford, which beat Wynford 48-36. Ottawa-Glandorf, the defending Division III state champion, ends the year at 21-3.
O-G's fullcourt pressure hampered the Cavaliers, as did the halfcourt defense that kept Coldwater from getting the ball inside to 6-7 Eric Lefeld. Coldwater shot just 44 percent (8-of-18) from the field in the first half and were outrebounded 16-8.
"At halftime, we had a nice heart-to-heart with the kids," said Kanney. "It all boiled down to hustling, checking out, not giving them second shots and making the plays. We were playing scared, not playing to win and I thought the kids did that in the second half."
Coldwater countered the O-G press with a 1-2-2 3/4-court press to start the second half, which slowed down the Titans and forced five turnovers. The Cavaliers also began to hit the open shots, getting big help from backup center Tim Brunet, who got some added playing time with Lefeld picking up his third foul in the third quarter. Brunet scored two big buckets as Coldwater chipped away until Zac Siefring got a steal and a layup with two seconds left in the third quarter to tie the score for the first time in the game.
The Titans still had the lead at the horn, however, as Josh Johnson was fouled trying a three-pointer and made all three free throws to make it 44-41 going into the final quarter.
"The kids got a little more active, got some steals," said Kanney. "Again, we hit some shots.
"We talked at halftime about creating some offense with our defense."
"We didn't attack the pressure very well," said Titans coach Josh Leslie. "What killed us was that turnovers turned into automatic points for them. We'd turn it over and they'd get points off of it. We can't have that."
The lead did not last, however, as Joe Thomas knocked down a trey to start the quarter to tie things again. The Titans got the lead back to three points at 47-44, but Siefring buried a three-pointer with 5:46 left to tie the game again.
With Lefeld picking up his fourth foul, Brunet came in to make an impact again, going to the hoop and getting fouled, nailing the old school three-point play to give the Cavaliers a 50-47 lead with 4:11 to play.
The Titans scored just three points over the next three-plus minutes and got as close as two points, but Coldwater's defense held the Titans to one shot per possession when not forcing a turnover.
The Cavaliers had a chance to make it a three-point game with 1:12 left, but Adam Rammel missed the front end of a one-and-one opportunity at the free-throw line.
O-G came down and got the tying basket with 54 seconds left on a Taylor Kuhlman drive. Coldwater stayed in its offense and got the ball inside to Lefeld, who put it in to put Coldwater back up by two points with 31 seconds left.
After Leslie called timeout for O-G, the Titans had an open three with Alex Schomaeker, but the shot rimmed out. Lefeld got the board and was fouled with 20.1 seconds left.
Lefeld, who had been shooting just around 50 percent on the season from the charity stripe, came up clutch, sinking both to make it 58-54.
"To be honest, what I was thinking was me and coach Kanney shooting after practice one day," said Lefeld. "The repetition was there. I was thinking 'calm, relaxed and put them in.'"
The Titans had several chances to score, but the Cavaliers got the rebound each time to close things out.
"They had some open looks and made those open looks. Give them credit," said Leslie. "They fought back. We had an 11-point lead at halftime and playing pretty well. They made all the big shots they needed to make. Credit goes to them for that."
Siefring scored 13 to lead the Cavaliers, who shot 72 percent (13-of-18) from the field in the second half, while Rammel, Keith Wenning, Lefeld and Thomas each added eight. Brunet, averaging just 3.7 points per game in the regular season, scored seven and pulled down four rebounds.
"Our bench played big," said Kanney. "We had Tim Brunet step up. Tony (Harlamert) had some big steals and rebounds, and Luke Grieshop played well."
Kuhlman led all players in the scoring department for O-G with 14 points.

Tickets - The following times have been set up for ticket sales for Wednesday's at Bowling Green State University's Anderson Arena (some of the tickets are reserved seating). All tickets will be sold in the high school office:
• Monday, from 5:30-6 p.m.: parents of team personnel (limit eight per team member).
• Monday from 6-7 p.m.: Reserved season ticket holders (limit two per person).
• Tuesday from 8 a.m. to 3 p.m. and from 6-7 p.m.: General public (no limit).
• Wednesday from 8 a.m. to 3:30 p.m.: General public.
Tickets are $6 presale and $8 at Anderson Arena. Coldwater receives a portion of presale tickets only. Directions will be available when purchasing tickets.