Saturday, March 21st, 2009
Ballroom dance craze
New Bremen couple keeps students on their toes
By Margie Wuebker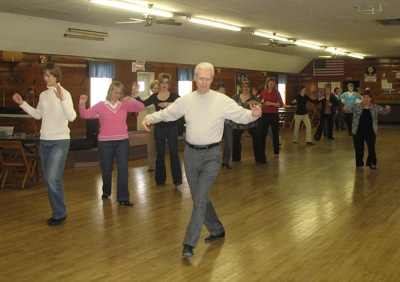 OSGOOD - Eighteen couples glide across the wood dance floor at the Osgood American Legion hall doing their best to follow the footwork of ballroom dance instructors Ted and Terry Wagner.
"Dancing is a lot like walking a tightrope," Terry Wagner of New Bremen tells her students. "Both take an incredible amount of balance."
She counts out the cadence "one, two, three" and smiles like a proud mother hen whose chicks follow orders and execute steps in rhythmic fashion. They have mastered the waltz or as she calls it "poetry in motion set to music."
For the more challenging foxtrot, the Wagners direct men to the right of the floor and women to the left giving them an opportunity to work on basic steps before regrouping as partners. Assistants Ron and Sharon Rindler of St. Henry work their away around the room, lending words of encouragement and demonstrating proper technique.
"Dancing is the hardest work I've ever done," Sharon Rindler admits with a smile. "Good dancers like Ted and Terry make everything look so effortless, but it isn't."
She gave her husband basic dance lessons with the Wagners as a Christmas present six or seven years ago, thinking this was something they could do together.
"You have to practice at home after class or lose what you just learned," Ron Rindler says. "The truth is the learning part never ends."
Gary and Theresa Diller of Coldwater signed up for a recent six-week session of classes along with other members of their "Menchhofer Road Gang."
"We decided greater numbers inspire confidence," Theresa Diller says of the group signing up together. "Or maybe there is safety in numbers. We all agree the hour goes fast."
The Wagners, who began teaching in the 1960s, have seen the popularity of ballroom dancing surge and wane periodically over the course of four decades, only to reappear stronger than ever.
"It takes some kind of catalyst," Ted Wagner says. "Television shows like 'Dancing with the Stars' and 'Ballroom Bootcamp' have awakened even greater interest in people of all ages."
The Wagners believe ballroom dancing is an ideal exercise because it promotes mental, physical, social and artistic qualities. The physical aspect involves endurance and energy while the social aspect leads to friendships with other dance enthusiasts. They say research indicates dancing lifts spirits and improves minds.
They maintain there is no-
thing more beautiful than a man and woman gracefully moving in unison to music.
"The teamwork should be so close that the casual observer cannot tell who is leading and who is following," Terry Wagner says. "The man has quite a burden on his shoulders ... steering his lovely lady across a crowded dance floor without bumping into anyone. This is one time it's OK for the woman to know her place and follow."
The couple derive great satisfaction seeing students work through problems and master the "big three" - foxtrot, waltz and swing. The rumba and cha-cha round out the five dances students become familiar with in basic and advanced classes.
Those wishing to learn even more sign up for private lessons at the Wagner home since the National Ballroom Dance Association also recognizes the polka, tango, quick step, Vienese waltz and the merengue among its repertoire.
Prospective brides and grooms occasionally come for private lessons to prepare for their traditional first dance. Sometimes entire wedding parties or the bride's father express interest in learning. An entire family once signed up so everyone would shine on the dance floor.
"We recommend they come at least three months before the big day because it takes time to work up a routine," Terry Wagner says. "Most people have no concept of what goes into a dance."
The Wagners, who primarily teach January through April, are accomplished dancers who admit to an occasional faux pas despite years of experience.
"I warn my students about walking onto the dance floor thinking they will never make a mistake," she says. "You will make mistakes but accomplished dancers know how to cover them up and go on as if nothing happened."