Monday, March 23rd, 2009
Hero welcomed home
By Margie Wuebker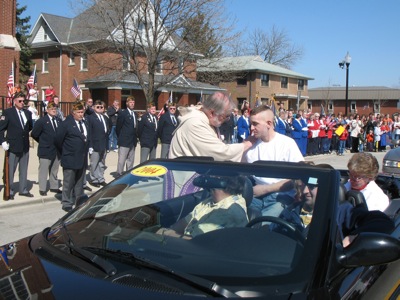 COLDWATER - "Mommy, what's a hero?" Zach Bruggeman asked his mother with flag in hand while waiting for the blare of sirens to signal the homecoming of U.S. Army Spec. Kyle Sudhoff on Saturday afternoon.
The 7-year-old son of Adam and Sue Bruggeman of Chickasaw listened as his mother explained, "Heroes travel far from home to places like Afghanistan and Iraq to protect people. Sometimes heroes like Kyle get ouchies in the process."
The youngster, seated with younger sisters Paige and Kelsey, seemed to understand. After all, his uncle Todd Keller just returned from deployment in Iraq, but fortunately escaped without bandages or scars.
Sudhoff, the 22-year-old son of Patrick and Bernice Sudhoff of St. Anthony, seemed amazed at the turnout for his homecoming - nearly a thousand people holding flags or colorful signs along Main Street in Coldwater. Some saluted, many cheered, a few cried.
He shook his head occasionally trying to comprehend the sight of so many people - from toddlers in strollers to senior citizens with walkers.
Representatives from American Legion and Veterans of Foreign Wars posts, their respective auxiliaries and a color guard from the Mercer County Firefighters Association snapped to attention as the convertible bearing Sudhoff, his parents and girlfriend drove slowly through town
The procession stopped in front of Holy Trinity Catholic Church, a short distance from Coldwater High School where Sudhoff graduated in 2005. Deacon Thomas Huff, clad in flowing robe and stole, approached the car and spoke with the soldier before giving him a blessing.
Also participating in the event were motorcycles by the dozen, fire trucks from Coldwater, Montezuma and Burkettsville, the Mercer County Sheriff's Office and police vehicles from Coldwater and St. Henry.
Cars and trucks carrying friends and relatives brought up the rear with the final unit bearing a special message from the Sudhoff family - "Thank you for your support."
Plans for the welcome home celebration developed quickly after Sudhoff's sister Mandy contacted Helen "Butch" Jacobs of Operation Freedom Support.
"Kyle jokingly made a comment to his girlfriend about having people standing on the sidewalk with flags when he came home," Jacobs said. "Mandy called me and the rest is history. He got a real hometown welcome."
Following the trip along Main Street, the Sudhoffs headed for their St. Anthony area home, where Kyle will spend a 30-day leave before returning to Walter Reed Army Medical Center in Washington, D.C. Weekend events included brief appearances at a Saturday night wedding reception and a Sunday birthday party for his 88-year-old grandmother, Rita Schaefer of Briarwood Manor Nursing Home in Coldwater.
He was injured Jan. 8 when a suicide bomber drove a car laden with explosives into a crowded bazaar in the Maiwand Province, west of Kandahar. Two members of his foot patrol died in the blast while three others were wounded.
Sudhoff, a member of the U.S. Army's First Division, sustained a broken right foot, a broken left arm, burns and shrapnel wounds. Surgeons also repaired internal injuries as well as arterial damage in his arm. The soldier, who faces additional surgeries and many months of therapy, has regained limited movement of fingers on his left hand. Doctors are hopeful the nerves and muscles will regenerate. In the event that does not happen, he faces possible nerve grafts.