Thursday, March 26th, 2009
Local state park may take over canal management
By Nancy Allen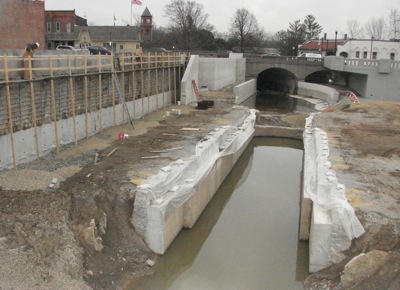 Grand Lake St. Marys State Park Manager Craig Morton is learning the ins and outs of the 250-mile Miami and Erie Canal.
Morton's office may take over operations of the canal if a cost-saving proposal to move two state programs into the Division of Parks and Recreation gets passed in the Ohio budget.
The programs being moved would be the Division of Water's canal lands program and the Division of Real Estate and Land Management's recreational services program.
The proposal still needs to be voted on by legislators along with all other parts of the Ohio budget, but ODNR spokeswoman Christy Wilt says she believes it likely will be approved.
"For the immediate future it will have very little effect on anything that will be obvious to the public," Morton said. "Our main goal right now is to learn about the canal, what the canal guys do and the hydraulics of the canal."
The Grand Lake St. Marys State Park office would take over bill paying and payroll processing for the canal program's four employees. It's not yet clear what other duties Morton's office would take over, he said, adding it would be a learning process during the coming months. Eventually though, the local park office would inherit more work as a result, he said.
Morton said the mergers would not result in any job losses and would result in greater efficiencies.
He called it a "win-win situation" and said it makes sense. Full-time canal supervisor Steve Dorsten's office already is housed at the local state park office and he reports to Morton. Dorsten has a staff of two full-time employees and one part-time seasonal employee. There also is an existing maintenance shed used by Dorsten and his crew located at the state park office, Morton said.
"Eventually canal staff will be asked to do parks work and parks staff will be asked to do canal work," Morton said. "So we will get their help from time to time on parks projects and vice versa."
With the state's budget bleeding red, the merger was proposed as a way to increase efficiencies and save money, Wilt said.
The two programs were moved to the parks division because the recreational services program includes trail development, which is in line with outdoor activities at parks, and most of state's canal lands are adjacent to state parks, she said.
"The people still within the canal lands program will manage it, but those people will be working for the Division of Parks and Recreation," she said.
Morton recently toured the canal with other state officials.
"We toured the part that takes in the feeder canal, which goes from the east end of the lake to the main canal, then we went south to New Bremen and also looked at things in St. Marys," Morton said. "It's quite involved."
If the merger happens, Morton would begin managing the entire canal. The most active part of the canal is on a 44-mile section from Delphos to Sidney, which includes a series of hydraulic gates used to control water levels.
Morton and his staff also would need to become familiar with the many community groups that support and help maintain the canal, he said.
"They (Dorsten and his crew) are heavily involved in citizens groups and cities and towns up and down the canal that have volunteers involved in maintaining the canal and promoting canal issues," Morton said. "They also have to mow extensive sections of the canal and do bank repairs from blowouts and do hydraulic management, like if there is a rain event and they have to adjust gates that let water in and out."
Wilt would not say the total amount of money ODNR may save by going forward with the mergers. She did say that at least $200,000 will be saved because two chiefs, one of the Division of Water and another of the Division of Real Estate and Land Management, left within recent months for other jobs.
These most recent proposed mergers follow another merger proposal announced a couple of weeks ago. ODNR Director Sean Logan wants to merge the Division of Soil and Water Conservation and the Division of Water into a single division called the Division of Soil and Water Resources. The Division of Recycling and Litter Prevention would continue as a separate division, but with leadership and administrative assistance from the new Division of Soil and Water Resources, that proposal states.
If these mergers are approved, the Division of Real Estate and Land Management and Division of Water would no longer exist.
Mergers and consolidations are one more way ODNR is trying to tighten its belt in these tough economic times. A recent report on how to fund state parks showed ODNR is operating with a staff that's roughly two-thirds the size it was in 1992.