Friday, March 27th, 2009
Dessert Diva
Minster woman breaks wedding cake tradition with designer desserts
By Shelley Grieshop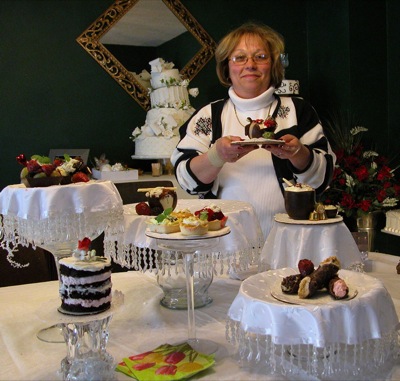 MINSTER - It's not just about the cake anymore.
Mousse-filled chocolate cups and cappuccino-flavored cannolis are just a few of the desserts stealing the spotlight these days from traditional wedding cakes.
Sue Doenges of Minster - a confection chef - saw the trend coming.
"The idea of serving a variety of desserts at weddings began showing up in Europe a few years ago," she says. "It gradually became popular in the bigger cities but it's still fairly new to our area."
Doenges, who operates the business "Wedding Confections" from her home, says serving made-from-scratch designer desserts - sometimes instead of wedding cake - is a way for brides and grooms to offer something unique.
On Valentine's Day, Doenges created her first-ever dessert buffet for a local couple's wedding reception. It was an immediate hit with guests.
"That was over the top," says Jason Romer of Romer's entertainment facilities who handled the event at the company's Celina location. "We see lots of weddings and lots of fancy wedding cakes but that one definitely 'took the cake.' It was very cool."
The bride did have a cake but it was mostly fake except for a single round layer.
Doenges, 54, says there's no limit to the types of desserts she can create for weddings, corporate dinners, engagement parties and other affairs. She often chooses a menu of sinful sweets based on the preference of the wedding couple or event organizer and their budget. If chocolate swans, eight-layer tortes or fruit-filled mini-tarts are too flashy, there's always the ever-popular cheesecake, decorated cupcakes or cookies, she says.
"There's no limit to what you can do and it gives me a chance to be more creative," says Doenges, as she sits at her dining room table surrounded by tasty examples of her work.
As a young girl, she spent a lot of time "puttering" around the kitchen with her mother, she says.
"I guess I've always liked to bake," she adds with a smile.
Doenges' first decorated cake required a bit of yellow frosting: her son was a fan of Big Bird.
"That was the start of it all," she says, whimsically throwing her hands in the air.
At first she was tapped mainly to bake and decorate children's birthday cakes. Then a relative asked her to make a wedding cake and - through word of mouth - her business began to grow, says the mother of two adult children.
About five years ago, Doenges left her full-time job at JC Penneys in St. Marys to spend more time with family and friends. Eventually she began accepting more and more requests for wedding cakes, but continues to pace herself to avoid getting "burnt out," she says.
In her spare time, she leafs through magazines and checks out Web sites for new recipes and designs for a variety of sweet treats.
"The Food Channel has become a major source," she adds.
Her biggest crowd pleasers to date are the edible chocolate cups that she fills with yummy mousse, fresh fruit or other mouth-watering delights. For diabetics or those watching their calories, she offers a sugar-free version.
Doenges takes great pride in her work. Like a good artist, she derives pleasure from a finished product that meets her high expectations.
"My satisfaction comes when I get everything delivered safely and it looks the way I envisioned it," she says.