Monday, March 30th, 2009
Tri Star students can keep them running - wirelessly
By William Kincaid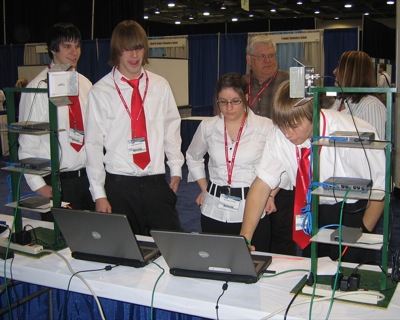 If Celina schools' computer network goes down, Tri Star Career Compact students know how to use wireless technology to get the system back up and running.
The senior computer support technology class was invited to the Ohio ETech Conference in February to present their project of using wireless technology as a backup. Each year more than 6,000 people attend the conference to learn about the best practices in the field of educational technology.
The project began in September when teacher Richard Murray asked his students to find a way to provide temporary network access if a fiber optic cable is cut - something that had already happened more than once.
While construction crews from the city were widening the intersection between the administration building and an elementary building last summer, the fiber cable was cut on three separate occasions, Murray said.
The students successfully used Wi-Fi, an inexpensive solution to bridge the severed fiber until repairs could be made to the line, Murray said.
"It allows us to at least get through the rest of the day," Murray said about Wi-Fi, radio-link wireless network solution.
The students developed a working concept that they spent several months refining before presenting it at the Columbus conference in February.
"They really did a nice job - I was really proud of them," Murray said.
The network project is just one example of Murray's problem-based approach to learning.
"It teaches them real world skills," he said.
Years ago, Murray said students with a Tri Star-based education could immediately get a job.
"This isn't enough," he said.
Last year, for instance, all 13 of Murray's senior students went on to college, some to four-year programs at The Ohio State University and Ohio University, he said.
Both Murray and Tri Star Director Tim Buschur agree that whether students choose to pursue six months, two years or four years of higher education, additional training is needed in today's workplace.
To prepare students for higher education and the ever-changing technology industry, Murray said more rigorous mathematics have been integrated into the classroom.
"We're pretty fortunate. The kids we have are good kids - this is something they choose," he said.