Saturday, March 7th, 2009
Area man hoping to rev up electric car business with stimulus funds
Stimulus money: Doling out the dough
By William Kincaid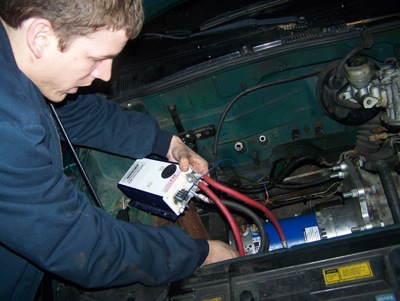 MINSTER - Mitchell Bihn believes his business vision of converting conventional motor engines to electric motors is an ideal proposal to get a chunk of Ohio's stimulus money.
Coupling his knowledge of batteries from working at Warehouse Energy in Minster with heavy research and an entrepreneurial spirit, Bihn wants to start the conversion business at his home garage at 341 E. Fourth St., Minster.
"I'm already in the process - it (stimulus money) would help jump start it incredibly," he said.
And he believes his plan, which he has worked on for more than a year, is exactly what federal officials are looking for under alternative energy projects to be funded.
"I believe I have a decent shot at it," he said about his request for $250,000 in stimulus money, pointing out it's the only proposal in Ohio for converting fuel engines to electric.
Though the form of stimulus funding has not been finalized, Bihn would be happy accepting either a low interest loan or grant.
"I'm already invested deeply into it," he said, explaining he started the idea long before the stimulus package was available and will continue regardless if he receives funding.
Under the business name DC Conversions, Bihn wants to remove fuel engines and fuel and exhaust systems and replace them with electric motors.
"It's a very easy process actually," he said.
Working on a 1997 Chevy Cavalier he purchased with a ruined engine but otherwise in fine shape, Bihn already has the electric motor installed to power the drive train and connected to the transmission system.
"Manual cars are ideal," he said about prospect transplants.
The type of electric motor depends on the weight of the vehicle, he said.
Bihn has installed a 72-volt system in the Cavalier consisting of the motor, three 8-volt batteries in the front of the car and six 8-volt batteries in the back of car.
The car's interior is equipped with a digital battery-indication system - much like a fuel gauge - allowing the driver to know how much juice is left.
But Bihn emphasizes the reverberated cars are intended for short trips, as the vehicles can only go 40 miles before requiring another charge.
"Once you get half a tank, you better turn around and go home," he said.
In the garage, the motor can be charged through an ordinary house outlet in eight to ten hours, he said.
Bihn says the cars are ideal for those who live within 20 miles of their work, or, for instance, stay-at-home parents who have to make various errands during the day.
When compared to a normal fuel engine, electricity equivalent to a gallon of gas for Bihn's car cost less than 20 cents, according to his most current research.
And it would reduce pollution.
"As long as everything is treated right, the motor should go a long time," he said, pointing out that the car's batteries need to be changed - depending on usage - once a year.
Bihn intends to both transplant the engines of his future customers' cars and purchase and rebuild his own vehicles before reselling them, he said.
"My whole goal is to completely (make the changeover) for under $10,000," he said.
"I'm hoping to get a whole conversion process done in less than 80 hours," he said.
An ideal car for an electric overhaul is a manual transmission vehicle less than five-years-old but with high mileage. Such cars, he said, are still in very good shape except for the engines.
Bihn estimates DC Conversions should begin business in the fall, depending on many variables.
"This is a low cost alternative to buying the high priced all electric vehicles currently available and implementing existing vehicles for new purposes. This is a start-up company, and hopefully, will become sustainable by itself and keep adding jobs in the future," Bihn wrote in his proposal submitted to recoveryohio.gov.
Depending on how business grows, Bihn said he intends to hire others, ideally those mechanically inclined. However, most of the work is derived from on-site learning.