Thursday, April 2nd, 2009
Fort Recovery students play the game of life
By William Kincaid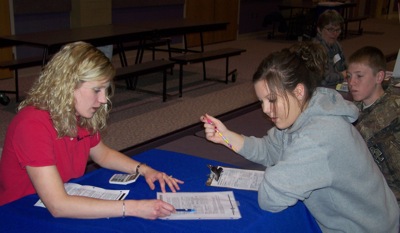 FORT RECOVERY - Trying to make ends meet with an annual salary of $13,700 and three children isn't easy, a middle school student at Fort Recovery Middle School learned this week.
School officials and business professionals held the first annual "Real Money, Real World Assembly" on Wednesday where eighth-graders randomly selected an annual salary and vocation and had to balance a monthly budget.
"I don't want to be a waitress," said student Jasmin Bechtol, who was assigned a salary of $13,700 and three children. "I'm scared."
Each student had to go through 14 different stations and make purchases - such as utilities, transportation, insurance, etc. - all while staying within their monthly budget.
"This is really a neat activity," middle school Principal Ted Shuttleworth said. "This is a real world application."
Students who finished in the red had to go back and gut some of their monthly costs, some opting to get help from the financial adviser on hand.
"It's good to see how life's going to be - you can't always get what you want," said student Sydney Wilson, who wants to be a teacher someday. "You have to really watch what you're getting."
Fourteen professionals - mostly from Fort Recovery - participated in the event.
The program was held in conjunction with teacher Cheryl Perkeybile's family and consumer science class, where students spent weeks preparing for the financial undertaking.
"Obviously with the economy, this is an important thing to offer kids," said Mercer County Extension Educator Barbara Phares, who helped organize the event.
Student Craig Hart, who selected an annual salary of $25,000, had to go back through his budget and make the tough decision of renting instead of buying a house.
"Kids really need to be thinking about this going into high school," Phares said.
Fort Recovery Community Foundation President Carol Knapke, who was in charge of the community contributions station, suggested the school bring the program back when the students are juniors preparing for college. Then they can learn about the costs related to tuition, room and board and books - debt they may have before going out into the real world.