Friday, April 3rd, 2009
Panthers score four times in seventh to knock off Bulldogs
By Ryan Hines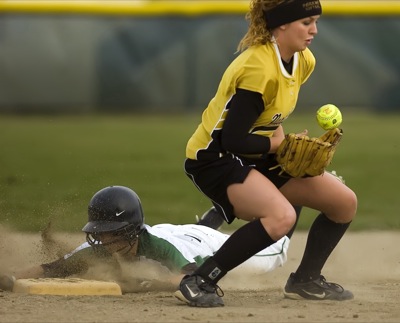 ROCKFORD - In the span of 48 hours, the Parkway softball team has gone from the lowest of lows to the highest of highs.
Just two days ago, the Panthers were a victim of a walk-off home run by St. Marys, but on Thursday, Parkway won in its final at-bat.
Parkway erased a three-run deficit in the bottom of the seventh inning to rally and beat Celina, 5-4.
Celina, now 0-3 to start the season, was in control for six innings after scoring four early runs, but couldn't finish off the Panthers.
"We didn't bring any energy to the diamond tonight and it showed for the first six innings," said Parkway head coach Mark Esselstein. "We got it together in the last inning to win the game. Once we got it going in the seventh, it seemed to fire everyone else up."
It certainly isn't the way Celina head coach Nicole Driggs thought the season would start, but she remained positive after the gut-wrenching defeat.
"I just got done trying to tell the girls to treat this like a win," said Driggs. "We came out here and played the way that we are capable of playing and nearly beat a very good Parkway team. Even coach Esselstein said that we deserved to win this game today. We just didn't finish it off."
It was a lackluster performance by Parkway until catching a spark in the fifth inning with a Chelsie O'Neill run off a wild pitch by Celina pitcher Christine Thobe.
Driggs made a pitching change after five innings of play by bringing in Abbey Welker to replace Thobe.
Welker coasted through the sixth inning, but ran into trouble right away to start the seventh inning. Katlyn Smith singled and O'Neill drew a walk which prompted Driggs to make another pitching change.
Driggs brought Thobe back in to pitch, but she gave up a single to Morgan Cron to load the bases before Celina was able to record the first out of the inning.
Esselstein then brought Brittany Bollenbacher off the Parkway bench to pinch hit and the junior drew a walk to force in a run to make the score 4-2.
Megan Ketchum tied the score at 4-4 with a two-run single and then Lindsay Shellabarger drove the ball to right-centerfield with Ketchum scoring the game-winning run all the way from first base when Celina misplayed the Shellabarger single in the outfield.
"As a coach, you always second guess whether or not you make a pitching change after the way it turned out," said Driggs. "We saw Thobe wear down a little bit and we haven't ever seen her go seven innings yet, so we made the change. Then we tried to bring her back in and it just didn't work out."
It's unlikely that any local softball or baseball games get played today, but Celina is schedule to host Coldwater while Parkway is slated to host Van Wert.