Monday, April 6th, 2009
Celina boys and girls finish second to Defiance
By Gary R. Rasberry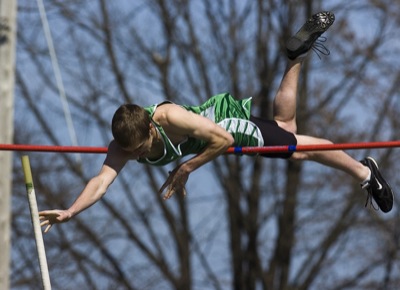 Celina track coach Dan Otten was happy how his teams competed on Saturday as Celina hosted its annual Western Buckeye League mini-invitational at the Varsity Track.
Both the Runnin' Women and Bulldog Boys finished second behind defending WBL-champs Defiance, but the young Celina girls were just 15 points behind Defiance as the Blue and White won 184-169. The Celina boys fell by a 1571/2 to 135 margin thanks to two late wins by Defiance in the last two races of the day.
Getting wins for the Celina boys included Blake Moran, who took the title in the 110 hurdles. Moran nearly won the long jump too with a 23-foot-plus leap on his final jump, only to get called for a foul, giving the victory to Jason Bartlett.
Todd Hertel took the pole vault with an effort of 12-6, then tried to take the school record with chances at 13-7 but could not get over.
Andrew Goodwin, who had battled Defiance runners last spring and this fall in cross country, got a measure of revenge in the 1,600-meter run, passing Zach Wiles in the final 75 meters to take the win in 4:29.52, nine seconds off the school record. Wiles got some payback, passing Goodwin with a lap and a half to go in the 3,200. That, and the win by Defiance in the 1,600 relay, helped the team pull away.
"Andrew in the 1,600 ran his best time from last year by nine seconds," said Otten. "That's the fastest we've had in 12 years in that event and he beat a good kid. I think it took it out of him in the 3,200 and still ran a (10:05.95)."
Celina also had a strong day in the 3,200 relay, edging Defiance for the win.
"Our shot putters, as a threesome, each threw over 40 feet," said Otten. "Sophomore Derek Jones threw five feet further than he's ever thrown.
"Long jump was unbelievable. Blake fouled and broke our school record by six inches. He broke the track record in the hurdles and Bartlett broke the track record in the long jump, so there was good competition."
In the girls meet, Celina freshman Hannah Fleck posted a sweep in the hurdle events while Cayla Hellwarth picked up the win in the pole vault with a top effort of 9-6. Hellwarth tried to break the school record of 10 feet she shares with Celina 2008 graduate Eryn Langenkamp, but missed. Sophomore Lindsay Watercutter was the only thrower to better 100 feet in the discus with a top effort of 101-11.
"Our girls stepped up," said Otten. "Our relays ran very well. Girls discus, Lindsay throwing over 100, we had a lot of good stuff. Long jump was our one weak spot. Distance girls got better. Our 800 girls ran better. We just couldn't match up with Defiance's veterans. It's a good sign."
Celina is back in action at Varsity Track on Tuesday, hosting WBL foe Kenton as well as Grand Lake Christian Academy.