Tuesday, April 7th, 2009
Boys go bald for friend
St. Henry fifth-graders support classmate losing his locks from cancer treatment
By Shelley Grieshop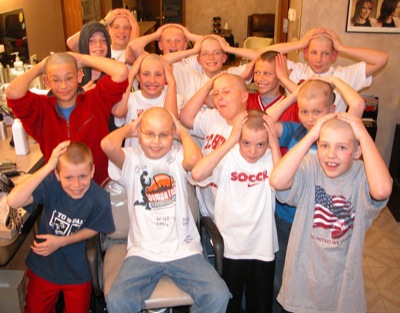 ST. HENRY - Like swapping baseball cards, 17 young boys traded in their hair Monday night in support of a friend who's losing his locks to cancer.
The children - most fifth-graders at St. Henry schools - eagerly plopped one by one into chairs at Total Image Salon so their classmate, Brett Ranly, wouldn't be the only kid in town without hair.
Ranly, the son of Joel and Sherri Ranly, was diagnosed three weeks ago with a treatable form of leukemia. The chemotherapy treatments he began recently have already caused his hair to thin and fall out, his mother said.
"This couldn't have happened at a better time," she said about the hair shaving event.
As she looked around the room at the large group of school friends and their parents and siblings who came along in support, she was nearly speechless.
"This is so unreal," she added.
Brett's father also said he was shocked at the number of boys willing to shave their heads for his son. Perhaps no one was as surprised as Brett.
"I thought a few of them would come but not all these guys," he said with a grin.
Classmate Justin Rindler had nearly completed his turn when his buddy, Kaleb Filadelfo, called out, "Justin, you look so hot!"
The crowded room erupted in laughter. Without missing a beat, Rindler shouted back, "You've got a lot of room to talk, baldy."
The electric razor barely made its first path through Paul Stammen's hair when his friends began chanting, "Mohawk!" A few minutes later, one of his friends handed him a mirror so he could see his new "do." He laughed at the sight but seconds later joined the new brotherhood of baldness.
The constant hum of razors continued for more than 30 minutes as hairstylists Trisha Lefeld and Sandy Kunkler worked feverishly. Cameras flashed almost constantly and the boys quickly got used to the attention.
"No one wear a hat tomorrow," one youngster suggested, although forecasts of snow flurries prompted mothers to shake their heads at the thought.
Although somewhat weak, Brett continues to attend school on a part-time basis, his mother said. His treatments are expected to continue for nearly three years, she added.
The family is still adjusting to the shocking diagnosis but are grateful for the outpouring of support, they said. Brett - named after former quarterback Brett Favre - recently received an unexpected phone call with words of encouragement from Green Bay Packers linebacker A.J. Hawk.
Last week, Sherri Ranly asked her son how he was coping. His reply was typical of an 11-year-old who'd rather be out playing ball with his friends.
"I just don't think about it," he told his mother.