Wednesday, April 8th, 2009
A dark and deadly secret
By Shelley Grieshop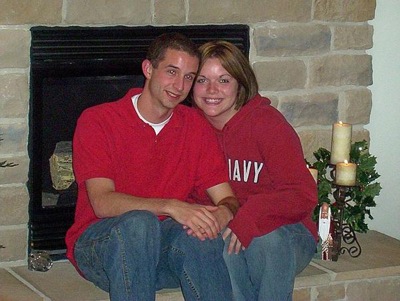 Jarod Bright was a young and talented assistant who worked at a law firm in downtown Columbus.
At 26, he was one day away from receiving a degree from ITT Technical Institute when his fiance, St. Henry High School grad Kim Summers, received a phone call she'll never forget: the man of her dreams was dead after sniffing from a $3 can of computer duster.
"They found him lying on top of the can," Summers says. "He probably didn't know what hit him."
Summers was devastated. She had no idea the man she was about to marry was an inhalant abuser. Now, 10 months after his death, she still carries tremendous guilt - a gut-wrenching feeling that she should have sensed the problem and prevented the tragedy.
"We were together 24/7. I don't know how I didn't know what was going on," she says.
Following Bright's death, she read every piece of information she could find on the subject. She learned from Bright's autopsy that it was the chemical diflueoroethane in the aerosol can that poisoned him and ultimately caused his death. Admittedly naive about drug abuse in general, she wanted to learn more about the dark and secret world that had stolen her best friend.
"This is something I had never heard about, especially coming from a small area like Mercer County where the big issue is underage drinking," says Summers, the daughter of Vicki and Al Summers (her father is a former St. Henry teacher and coach).
From her home in Colum-
bus, Summers has embarked on a crusade to help others understand the consequences of inhalant abuse. She has returned to college to become an addiction counselor and is involved with two national organizations that preach inhalant abuse awareness and education. About two months ago she gave her first speech to 36 youths at the Juvenile Detention Center in Troy.
"I told them Jarod's story and asked them if they had ever done anything like that and why. I wanted to know what Jarod went through," she says.
Those who spoke openly told her it was the best high they'd ever had. It was more addicting than alcohol or heroin, they said. What many of them didn't know is that common household items like an aerosol can of computer duster - used to clean equipment like keyboards - contains more than just "canned air," she says.
Summers, 27, now stresses to anyone who will listen that inhaling chemicals is deadly. Abusers get only a brief 15- to 30-second high and are enticed to do it again and again, she says.
"That's what makes kids take numerous hits, sometimes finishing off an entire can of something and then dying from SSD (Sudden Sniffing Death)," she says. "The very first time someone inhales to get high it can kill them, or the thousandth time. It's a game of Russian roulette."
Summers knew her boyfriend had health problems, which caused her to ignore some of the early signs of his addiction. In the months before his death, Bright had complained of headaches and nose bleeds and also developed a quick temper. She now knows these all are symptoms of a chronic inhalant abuser.
A colitis problem had always kept Bright slender but she was horrified by a dramatic drop in weight the last few weeks of his life.
"He said he was OK but his face was so sunken that last week. I was sure he had lost about 25 pounds. I told him he needed to see a doctor," she says, adding he refused to listen.
After his death she searched for clues to explain why he would do something so foolish, but found nothing, she says.
"There's just so many unanswered questions," she adds.
Now, the only way to move on with her life is to do something positive in Jarod's memory, she says.
"This feels 100 percent right," she explains. "I couldn't save Jarod but maybe I can help someone else down the road."
- Summers is interested in speaking to local organizations about inhalant abuse. Anyone wishing to contact her can call her at 614-572-4136 or e-mail her at kasummers4@gmail.com.

What is inhalant abuse:



Inhalant abuse is the deliberate sniffing of common household items such as aerosol sprays and other chemicals in order to get a quick high.
More than 2.1 million children and adults in America experiment with some form of an inhalant each year. More than 100 people die each year and others are left with brain damage and other physical ailments.
Inhalants are addictive and often a "gateway" drug to illegal drugs and alcohol abuse, experts say.
There are more than 1,000 types of products used by abusers including gasoline, propane, felt tip markers, spray paint and glue. Inhalants produce a rapid high that resembles alcohol intoxication with initial excitement,



then drowsiness, disinhibition, lightheadedness and agitation.
Short-term effects include headache, muscle weakness, abdominal pain, severe mood swings and violent behavior, slurred speech, numbness and tingling of the hands and feet, nausea, hearing loss, limb spasms, fatigue and lack of coordination.
"Sniffing, huffing, dusting or bagging" the chemicals can affect the central nervous system and brain; vital organs can be permanently damaged leading to unconsciousness and death.
Sudden Sniffing Death Syndrome occurs when someone dies after trying an inhalant for the first time.

- Shelley Grieshop