Thursday, April 9th, 2009
Snyder, McFeely grab top honors
By Gary R. Rasberry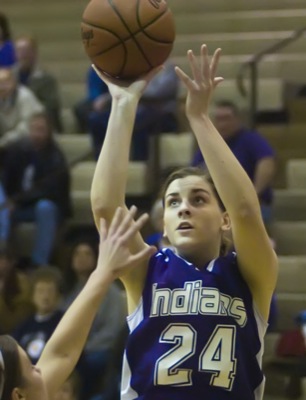 Both Fort Recovery and New Bremen benefited this past season by returning experienced teams.
Now, both teams will receive honors as Fort Recovery's Joanna Snyder was named the 2009 Daily Standard Girls Basketball Player of the Year and New Bremen coach Dave McFeely was selected the Coach of the Year after seeing his team set a school record for wins in a season, going 21-2.
Both teams made it to the Division IV district semifinals, where they lost to state-ranked teams in Delphos St. John's and eventual state semifinalist Crestview.
Snyder all-around player
Coming back to a team that had no seniors during the 2007-08 campaign, Snyder and the Indians had high expectations.
Snyder, already a potent scorer from the outside, had to add to her game as teammate Anne Koesters was limited early in the year due to a back injury.
"I knew for our team to do well that I would have to do well," said Snyder. "...I just put in a lot of extra time after practices and on the weekends to do as well as I could.
"Obviously, I didn't do it all by myself. The team worked hard all season long. The effort they give in practice helped me be a better player. They made it a lot of fun. It's easy to play well when you're having fun," added Snyder.
The Indians played strong all season, and had a chance to win the Midwest Athletic Conference in the final game of the regular season, losing a close one to St. John's. The Indians won the Division IV Wapakoneta sectional title and got a rematch with the Blue Jays in the Van Wert district, losing 48-46 despite leading 27-18 at the half.
"We set real high goals. We knew we had the potential to do some great things," said Snyder. "We did do some great things. Our senior night we had a chance to tie for the MAC. We lost the game but it was a great game. We played well in tournament. We played great competition and had a great record (17-6)."
Snyder put together an all-around game that could remind some of another former Indian, Sara Heitkamp. Snyder led the team in scoring (12.9 ppg.), rebounds (6.7 rpg.), assists (an area best 4.6 per game) and steals (2.8 per game).
The coaches of the MAC honored Snyder by naming her co-Player of the Year - sharing award with St. John's post player Zefiryn Bryan - and was named Honorable Mention All-Ohio in Division IV.
"The experiences I've had are invaluable," said Snyder. "It made me the person I am today. Competition we've faced and teammates I've had helped me learn to be very hard-working and dedicated and competitive. I've learned skills that apply to every facet of life."
Snyder, who will look to continue her basketball career while attending Ohio Northern University, also credits her father Ed, himself a standout at Fort Recovery and a recent inductee to the Fort Recovery Athletic Hall of Fame, and brother Greg, a multi-sport standout at Fort Recovery, to helping her gain her competitive edge.
"They influenced me in so many ways," said Snyder. "Every single weekend, during the summers, they'd be up there rebounding for hours. They put that athletic, competitive drive in me."
McFeely paces Cardinal surge
McFeely also had an experienced crew with losing just two seniors off last year's team. Featuring a lineup that had athleticism to burn with the likes of Stacy Timmerman, Taylor Jones - who missed the month of December due to surgery on her knee - and Jaclyn Dabbelt, the Cardinals lost just once in the regular season (a home loss early in December to Fort Recovery) before running the table rest of the season to go 19-1 while capturing the school's first MAC title in girls basketball. The Cardinals lost to eventual state semifinalist Crestview in the district semifinals.
"We knew we had a pretty good team, or felt we had a pretty good team," said McFeely. "We had two seniors last year who were role players and came off the bench, so we really had the same nucleus the last three seasons.
"The one thing we knew was the MAC was always going to be tough. I made a comment at the beginning of the season that it wouldn't surprise me if we won the conference and it wouldn't surprise me to finish last, because the games were all tough," explained McFeely.
One thing that McFeely felt was the key to the success of the Cardinals was the fact that a number of players could step up and help the team at any time and in a number of ways. Players like Jackie Niekamp, LeAnn Topp, Michelle Griesdorn, in addition to the above players, came up with countless big plays throughout the season.
"I don't think we had a star. When somebody tried to take Stacy away from us, then somebody else stepped up," said McFeely. "Look at our tournament game against Marion Local (which the Cardinals came back to win in the fourth quarter), they did a good job of containing Stacy and LeAnn steps up. Jackie Dabbelt, Michelle played big for us. Jess May came off the bench and got big rebounds. Caitlin Chaney came off the bench against Covington to lead us in scoring."

Past Winners:
Grand Lake Area Past Player of the Year Honorees

1994 - Sarah Puthoff, Marion
1995 - Jill Muhlenkamp, Coldwater
1996 - Jenny Carr, Parkway
1997 - Kim Luthman, Celina
1998 - Lauren Shenk, Minster
1999 - Michelle Hart, Celina
2000 - Jill Buschur, New Bremen
2001 - Kelly VanderHorst, Celina
2002 - Sara Heitkamp, Fort Recovery
2003 - Sarah Poling, St. Henry
2004 - Krissy Haines, St. Marys
2005 - Maria Moeller, Marion
2006 - Maria Moeller, Marion
2007 - Justine Raterman, Versailles
2008 - Justine Raterman, Versailles
2009 - Joanna Snyder, Fort Recovery

Past Winners:
Grand Lake Area Past Coach of the Year Honorees

1999 - Lori Schwieterman, St. Henry
2000 - John Storrer, New Bremen and Lynn Bihn, Fort Recovery
2001 - Jack Clouse, Celina and Treva Fortkamp, Marion Local
2002 - Scott Brunswick, St. Henry
2003 - Treva Fortkamp, Marion Local
2004 - Nann Stechschulte, Minster
2005 - Treva Fortkamp, Marion
2006 - Tim Niekamp, St. Marys
2007 - Jacki Stonebraker, Versailles
2008 - Brian Stetler, Celina and Jacki Stonebraker, Versailles
2009 - Dave McFeely, New Bremen