Friday, April 10th, 2009
Celina blanks Defiance to start 2-0 in the WBL
By Gary R. Rasberry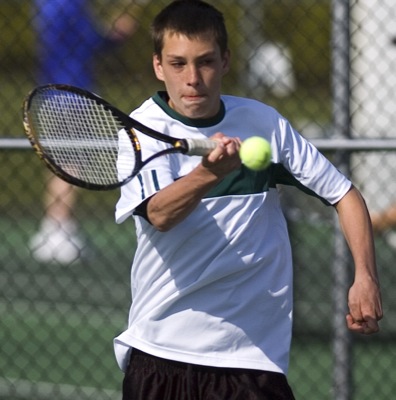 The Celina boys tennis team improved to 2-0 in Western Buckeye League competition with a 5-0 shutout of Defiance on Thursday at the High School Tennis Courts. Defiance goes to 0-1 in the WBL.
"A good day, but we're still mixing our lineup," said NetDog assistant coach Ralph Stelzer, filling in for head coach Jan Morrison. "You can tell just a little better tonight than last night (a 3-2 loss at Lehman). We had to change it around to get prepared for the long run in the WBL and tournament."
Celina re-arranged the lineup, moving singles player Kyle Miller to doubles and bringing up Jay McKirnan to play third singles, among other changes.
The plan worked as Adam Turner posted a 6-0, 6-1 win over James Gomez in first singles. Bryan Robbins added a 6-0, 6-4 win over Ryan McDonough in second singles and McKirnan looked solid in third singles with a 6-2, 6-0 win over Andrew Coble.
Miller and doubles partner Tyler Everman looked sharp in posting a 6-0, 6-3 win over Tien Charoonchaikankit and Austin Schultz.
The match to complete the sweep also was the longest match of the day as Celina's second-doubles tandem of Ryan Rutschilling and Jordan Bertke went the distance against Nick Lieswyn and Jonathon Frausto. Rutschilling and Bertke won the opening set 6-2 before the Defiance duo came back to win set two 6-4 to force a third set. In the final set, Rutschilling and Bertke got ahead and held on for the 6-4 win to get the shutout over Defiance.
"We're putting our confidence now in our first doubles by moving Miller," said Stelzer. "We're going to concentrate on winning that one as we go into the league and see if we get that second doubles shored up, then take some singles wins."
In exhibition matches, Trevor Smith and the teams of Eric Muhlenkamp and Justin Wenning and Nick Rose and Long Nguyen were among the winners.
Celina returns to action on Monday, traveling to Collett Street Courts to face Lima Senior.